DOF holds naming ceremony for newbuild pipe laying vessel
Norwegian offshore vessel provider DOF has held a naming ceremony for its newbuild pipe laying support vessel (PLSV) Skandi Olinda in Rio de Janeiro.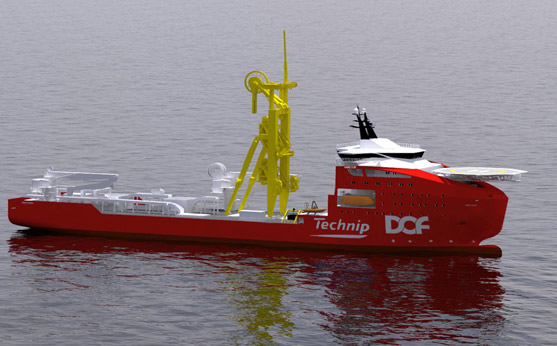 The Skandi Olinda PLSV is the final in a series of four PLSVs ordered by a joint venture between DOF and oilfield services provider TechnipFMC.
Director of subsea engineering at TechnipFMC Yvan Giacomelli has said via social media that the naming ceremony was held last week.
As for the previous three PLSV's ordered by the DOF-TechnipFMC JV, the Skandi Açu started its eight-year charter contract with Petrobras in August 2016, the Skandi Búzios in April 2017, and the Skandi Recife in June 2018.
All four vessels were ordered following eight-year contract awards from Petrobras back in August 2013 for the provision of installation of flexible pipes in Brazilian waters.
Under the DOF-TechnipFMC joint venture agreement, TechnipFMC manages flexible pipelaying while DOF manages marine operations.
The vessel has pipelay and marine technology with a 340 tons Vertical Lay System (VLS) tower, 2,500 tons underdeck carousel and two work-class ROVs, allowing it to lay flexible pipes in water depths up to 2,500 meters.
Offshore Energy Today has contacted DOF for more information regarding the vessel and the naming ceremony. DOF has confirmed the vessel has been named and said it would go on hire soon.
Offshore Energy Today Staff