EPS' LNG-fuelled Starway completes first LNG bunkering in USA
Singapore-based ship management company Eastern Pacific Shipping (EPS) has revealed that its liquified natural gas (LNG)-powered tanker Starway completed the company's first LNG bunkering operation in USA.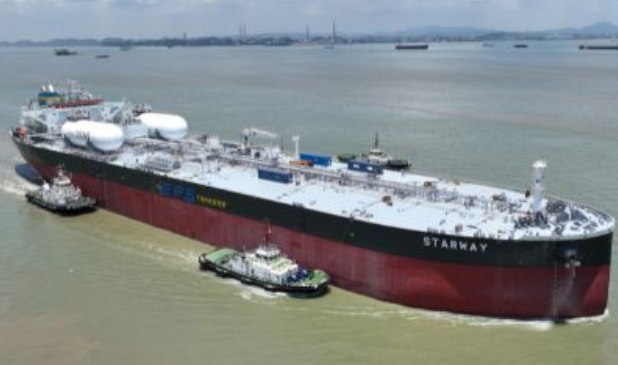 As informed, the bunkering operation took place at Galveston offshore anchorage, USA, on 24 August. The Suezmax tanker received 3,300 cubic meters of LNG via a ship-to-ship transfer operation from Avenir Achievement, a 20,000 cubic meters LNG bunkering vessel chartered by Shell.
To remind, EPS took delivery of Starway last year. Its sister ship, Greenway, is the world's first dual-fuel LNG Suezmax tanker, according to the firm. Last year, the vessels conducted several bunkering operations. Starway currently trades in the spot market.
"Bunkering LNG for spot vessels showcases our deep commitment to decarbonisation and the industry's energy transition. It also proves that the needed infrastructure to carry out LNG bunkering already exists for those willing to take action to lower their emissions today," EPS stated.
Greenway can reduce carbon dioxide emissions by about 23%, nitrogen oxide emissions by about 90%, and particulate matter and sulfur oxide emissions by 99% when propelled in LNG mode, EPS explained.
The vessel features a MAN B&W 6G70ME-C10.5-GI HPSCR (Tier III) engine and is driven by a high-pressure LNG system with fuel gas piping design pressure up to 350 bar, and test pressure up to 525 bar.
As part of its decarbonisation agenda, the Singapore-based ship manager has recently signed a construction contract for 2+2 LNG dual-fuel LRII tankers with Chinese shipyard Guangzhou Shipbuilding International Co., a subsidiary of China State Shipbuilding Corporation, and CSSC Trading.
They will feature a length of 250 meters, a molded width of 44 meters, a structural draft of 14.7 meters, and a service speed of 14.5 knots. According to GSI, they will meet the rigorous emission standards of IMO TIER III and Phase 3 of the EEDI energy efficiency index. The delivery of the firm ships is slated for 2025 and 2026.