Five teams advance to final stage of wave-powered desalination competition in U.S.
The U.S. Department of Energy (DOE) has unveiled five teams that will advance to the final stage of the Waves to Water Prize, a competition focused on using the power of waves to develop clean energy-powered desalination technologies.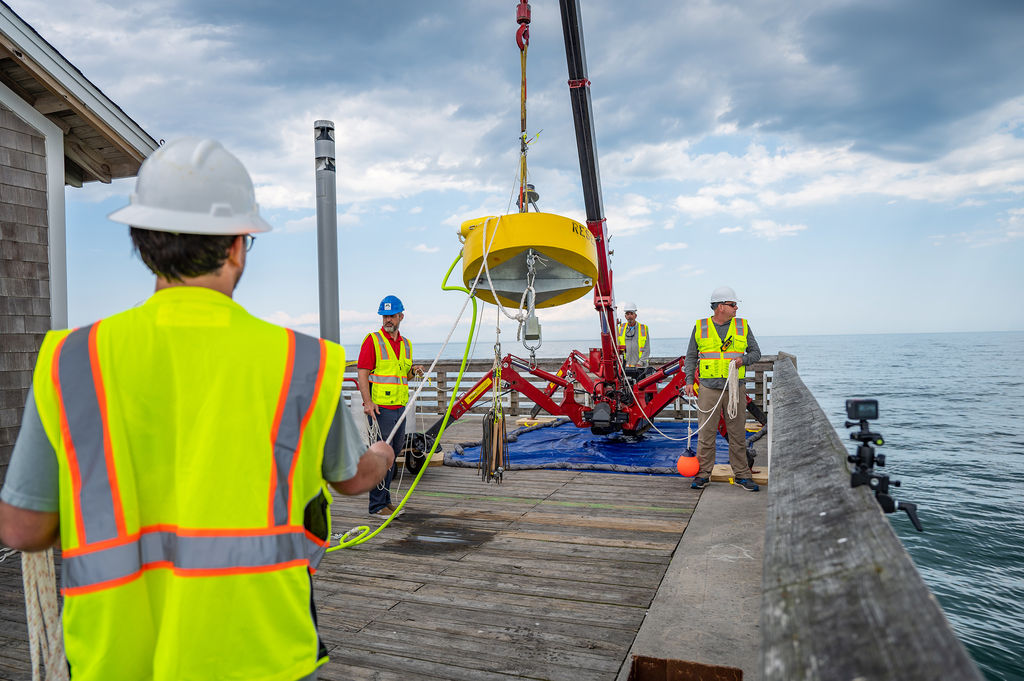 The winners of the CREATE Stage, announced by the U.S. DOE's Office of Energy Efficiency and Renewable Energy (EERE), will share a $500,000 prize pool to further develop their technologies that are expected to provide reliable access to fresh water for water-scarce coastal and island communities.
The following CREATE stage winners have qualified for support to build and ship their designs to North Carolina for the final DRINK Stage of the competition:
Project 816 with its Ballast, Buoys, and Borrowing from Archimedes device that can be deployed in a variety of site conditions by just two people with common equipment and basic tools. The inflatable, raft-based wave energy converter – built with commercial, off-the-shelf components – powers a land-based desalination system.
Sea Potential with its DUO Wave-Powered Desalination System, which is an inflatable device that captures energy using a hydraulic cylinder (using liquid instead of air or electricity to power mechanics). The device uses that energy to pump seawater through a reverse-osmosis membrane, which extracts salt and other impurities to produce drinkable water.
MarkZero Prototypes for its rapidly deployable MZSP Freshwater Production System that features pivoting arms, inflatable pontoons, an onboard, reverse-osmosis system (which turns salt water into fresh water), and a constant-pressure, variable-moment pump, all designed to meet the changing demands of diverse ocean conditions.
Oneka Technologies with its Oneka Snowflake, the Wave-Powered Watermaker. The system is a circular, raft-like device that can be assembled without tools. Easy to install and adaptable to most ocean conditions, the Snowflake can produce up to 10,000 liters of clean water per week (enough for about 450 people), which is especially important for disaster and recovery situations.
WATER BROS with its Wave Actuated, Tethered, Emergency Response, Buoyant Reverse Osmosis System (WATER BROS). The technology is based on a wave-powered device that has a unidirectional, rotational wave-energy conversion mechanism. Optimized for emergency response, WATER BROS is not only rapidly deployable, low cost, and highly resilient, but it also uses near-shore waves to generate clean drinking water in even the harshest conditions.
CREATE is the fourth of the five-stage Waves to Water Prize – a three-year, $3.3 million competition funded by DOE's Water Power Technologies Office and run by NREL.
Competitors in the CREATE stage had 180 days to build a functional prototype or proof of concept of their system.
East Carolina University's Coastal Studies Institute partnered with DOE and NREL to host the prize finalists at local landmark Jennette's Pier in North Carolina in April 2022.
The pier will serve as the competitors' launch and test site where experts will assess how the final designs perform during a five-day, open-ocean trial.
In the final DRINK Stage, one winning team will earn the $500,000 grand prize for the best overall system, while the other teams can earn smaller prizes – adding up to a combined pool of an additional $500,000, for metrics like highest water production, cleanest water, and simplest deployment.
Through the Waves to Water Prize, DOE seeks to accelerate the development of wave-energy-powered desalination systems and encourage creative, interdisciplinary solutions. The prize pairs world-class researchers with an entrepreneurial support system to prime them for private investment and commercial scale-up.
Kelly Speakes-Backman, acting assistant secretary for energy efficiency and renewable energy, said: "We will need a broad spectrum of technologies to tackle climate change and deliver the decarbonization goals set out by the Biden-Harris Administration. Through the Waves to Water Prize, we are equipping these entrepreneurs and innovators in marine energy with the resources they need to demonstrate these novel technologies that can increase community resiliency in the face of disaster recovery by producing clean water from the power of the ocean".