FPS hires Air Liquide to supply carbon-neutral hydrogen for container vessel
Dutch marine transportation service provider Future Proof Shipping has signed a long-term agreement with French fuel supplier Air Liquide (AL) for the supply of carbon-free hydrogen to its inland container vessel FPS Maas.
As part of the agreement, Air Liquide will supply carbon-free hydrogen through specially designed multi-modal hydrogen storage suited for inland barges. The newly designed storage will be homologated with the support of notified bodies and "will pave the way to make this new market a reality".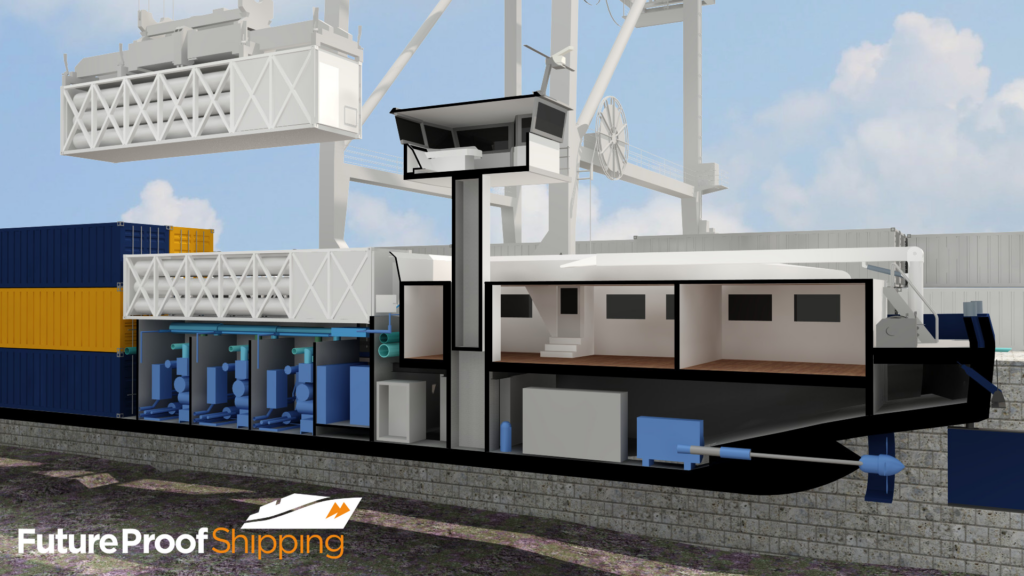 The hydrogen will be used in a PEM fuel cell to produce electricity to deliver ~ 825 kW for ship propulsion and auxiliary power. The PEM fuel cell system is necessary for converting hydrogen into electricity and will be installed in the cargo space of FPS Maas.
The overall solution is expected to reduce CO2 emissions by nearly 2,000 tonnes per year, according to the company. The vessel will transport containers between the Netherlands and Belgium.
The company also noted that the project is a milestone on the path to the decarbonisation of inland waterways. It enables the substitution of conventional fuel used in the shipping industry by hydrogen, thus reducing the sector's environmental footprint. The solution can be easily replicated to other ships, trains and other applications.
"We are excited to develop this innovative solution together with Future Proof Shipping by leveraging our hydrogen expertise to contribute to the decarbonisation of the maritime sector. This project will help lower the environmental footprint of inland transport on waterways, a sector that represents 3.4 % of the CO2 emissions in the Netherlands," Diederick Luijten, Vice President Hydrogen Energy Northern Europe & CIS countries – Air Liquide stated.
FPS and Air Liquide are also partners in the Rhine Hydrogen Integration Network of Excellence (RH2INE) Program, which aims to decarbonize inland shipping on the Rhine river and which is endorsed by the Dutch Ministry of Infrastructure & Water Management, the Province of Zuid-Holland (The Netherlands) and the state of North Rhine Westphalia (Germany).
"Partnering with Air Liquide, a company with hydrogen at its core, is solving a giant piece of the zero-emissions logistics puzzle for us. Our vessels need to be fueled with renewable energy and right now carbon-free hydrogen, supplied by Air Liquide, is the smartest and greenest fuel choice available to us," Richard Klatten, CEO – Future Proof Shipping, said.
"This was one of the last hurdles for FPS to overcome in our quest to get the FPS Maas sailing with zero-emissions. Now that we have secured our hydrogen supply, we will work on ensuring that even more zero-emission vessels and zero-emissions container slots will be available for cargo owners to ship their goods carbon-free," Prasanna Colluru, Director Corporate Strategy – Future Proof Shipping, added.
Two months ago, Future Proof Shipping decided to retrofit two more container vessels with a zero-emissions hydrogen propulsion system. FPS Rijn and FPS Waal will join FPS Maas on the same journey to become zero-emissions vessels.
Previously, FPS replaced the existing internal combustion engines on FPS Maas with hydrogen fuel cell technology. The retrofit process also included removing both the main engine and gearbox and installing a new modular propulsion system. The company received a recommendation from Central Commission for the Navigation of the Rhine (CCNR) to use hydrogen as a fuel for propulsion in July this year.