GKinetic concludes 'pivotal' hydrokinetic turbine demonstration in Northern Ireland
Ireland-based hydrokinetic solutions provider GKinetic Energy has completed the testing of its 12kW unit at Strangford Lough, making major technical, commercial and environmental progress that will help fast-track the commercial uptake of its clean energy technology.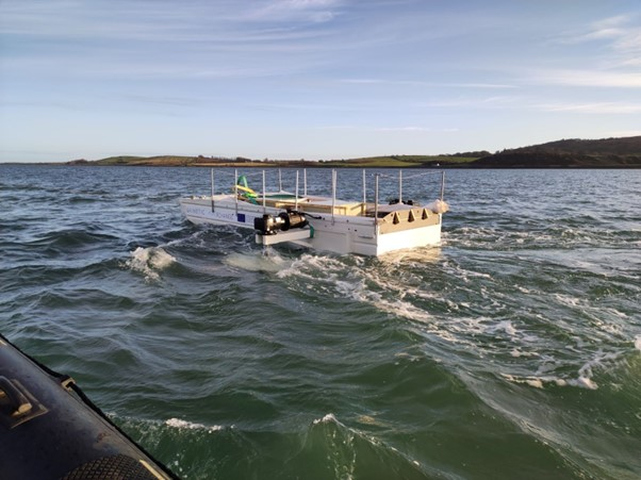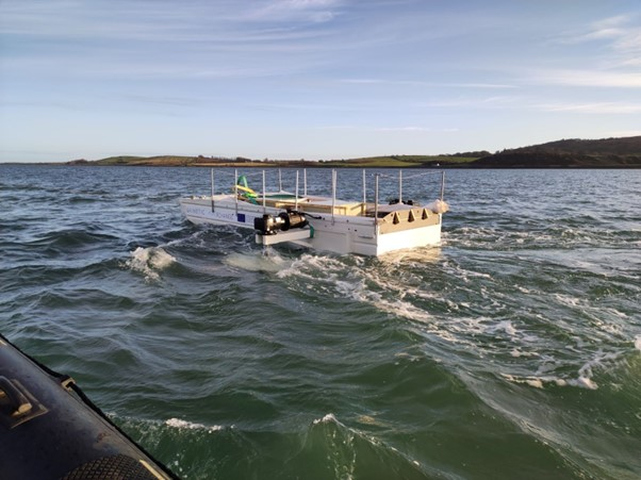 The six-month demonstration ran from January to June 2022, allowing for assessment of the device in varied environmental and weather conditions.
The deployment was part of the VATTS (Vertical Axis Tidal Turbines in Strangford) project, led by Queen's University Belfast and funded by the Centre for Advanced Sustainable Energy (CASE), supported by Invest Northern Ireland through their competence center program.
Other partners included Grant's Electrical Services and the Electric Storage Company. The machine supplied by GKinetic has been funded by the +CityxChange project, and is scheduled to be redeployed in Limerick City subject to planning.
Milestones achieved during hydrokinetic turbine demo
The device went from 'delivery flatpack' to 'deployment ready' in just 40 minutes pierside and was deployed and recovered 12 times throughout the demonstration. This process took 30 minutes or less, verifying how mobile and flexible the unit is, according to GKinetic.
In a tidal estuary, the device can be deployed during slack water between high and low tides, and weighing just 2 tons, it can be easily managed by a telehandling unit, GKinetic claims.
The device was required to be deployed with a Marine Mammal Observer (MMO) and a strict monitoring and shutdown policy. Underwater cameras were fitted to allow for observation of how aquatic life interacted with the turbines and extensive testing of the remote SCADA system demonstrated critical Health & Safety features.
Improved performance, with new patent filed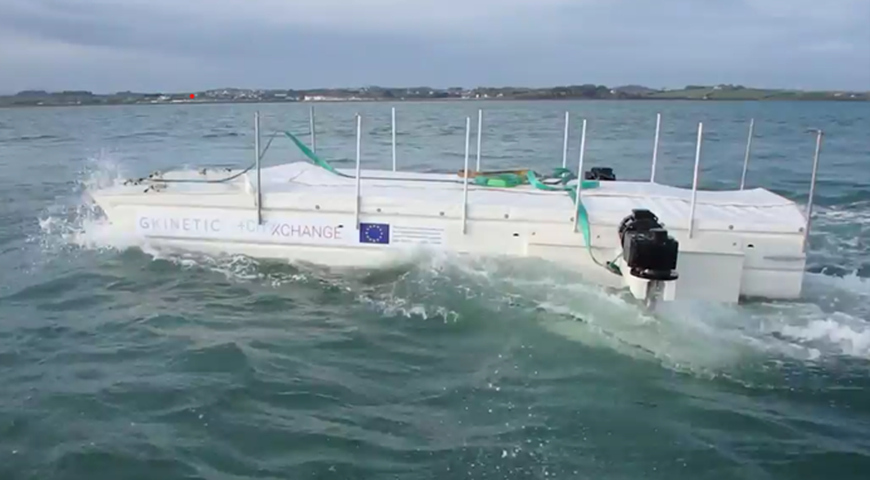 As part of the demonstration, a new hybrid blade pitch control design was trialed with a new patent filed in April 2022. This new system is said to have enabled the device to self-start, continue producing energy while partially submerged, and increase overall power outputs while also lowering production costs.
The ability of the device to self-orientate in the flow with the changing direction of the flood and ebb tides was also validated along with mooring optimizations. Held on a simple, single point mooring line, the entire system proved extremely stable in the relatively challenging conditions at the Strangford narrows, according to GKinetic.
The turbine works in both one-way flow systems (such as rivers) and bi-directional, tidal flow systems (such as estuaries) while being easily accessible when on anchor or mooring, very similar to a boat.
On-board self-generating power was achieved, powering all control, monitoring and operational systems (ADCP's, comms systems, SCADA systems, underwater cameras, security cameras, monitoring, lighting, among others).
"A 100% self-sufficient device is extremely valuable for off-grid applications and scenarios where a constant and reliable source of power is needed," GKinetic said.
First market-ready product for various locations
The 12kW unit demonstrated is GKinetic's first market-ready product. What makes it innovative is how it can generate power in slower, more average flow speeds, self-starting in 0.5 m/s and hitting rated capacity at just 2m/s, according to GKinetic.
To validate strength, drag, load and force calculations, the unit was tested at forces three times beyond what was required, with all mechanical parts performing exceptionally well, the company claims.
"The result is an energy generator ideal for baseload and distributed energy requirements where diesel and petrol generators currently serve as the main, stop-gap solution. A case study proving generator displacement was also completed as part of the demonstration," GKinetic said.
Acting as 'a floating charge station', the turbine can supply clean, reliable power for a variety of use cases.
GKinetic's deployment approach along with the progress made on the regulatory and environmental side could trigger mass adoption of the solution, resulting in large scale contribution towards the Sustainable Development Goals in as little as 2-3 years, the company expects.
Following this progress and a successful seed raise in December 2021, GKinetic said it will be publicly opening a new fundraising round in October, with more details to follow soon.
Subscribe and follow
Offshore Energy – Marine Energy LinkedIn