Green Ships, Bourbon Horizon to build zero-emissions ePSVs featuring Amogy's ammonia-to-power tech
Green Ships AS, a consultancy company specialized in the designing and building of 'green' vessels, and Bourbon Horizon AS, an international offshore shipping company, have signed a Memorandum of Understanding (MoU) with Amogy, the provider of ammonia-to-power technology, for the supply of its technology to two electric platform supply vessels (ePSV).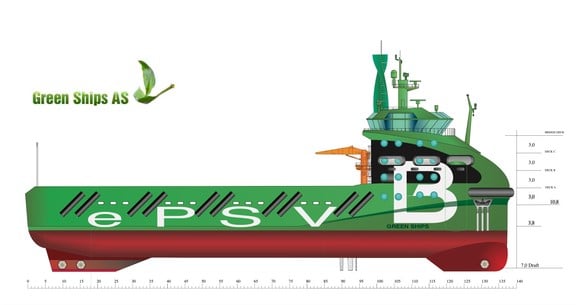 The agreement also stipulates an option for a third vessel.
The new design would feature an 82m ePSV integrated with ammonia-to-power solution into its power plant system as the primary power source for the vessel, enabling zero-emissions operations.
To secure uninterrupted operations at sea, the ammonia tank capacity will be in the range of 100 cubic meters. The complete system will be designed to avoid any leaks, ensure good ventilation, and adhere to DNV protocols under development.
The move is being pursued at a time when the global PSV fleet is relatively old, with the majority of vessels in the sector being between 10 and 20 years old. This also implies that the global fleet does not comply with the emerging industry emission requirements.
"This project will be the first of its kind for zero-emission ePSV. We rely on public and private funding to secure the success of this project, and take great pride in cooperating with one of Norway's leading offshore shipyards," Per Kavli, CEO of Green Ships AS, said.
"The successful scaling of zero-emission technology and innovative ship design is crucial for reaching the regulatory requirements of the maritime sector. With stricter IMO regulations to reduce the use of fossil fuels as of 2030, and a target of reducing at least 50 percent CO2 emissions by 2050, there is an urgency in the industry to adopt decarbonizing solutions. With operations across the globe, Bourbon Horizon is excited to join forces with Green Ships AS and Amogy to launch a new generation of PSVs into the offshore market," Bjørn Remøy, Managing Director, Bourbon Horizon, said.
"For smaller ships, such as a typical PSV size, liquid ammonia is mainly considered in combination with fuel cells and large-size batteries. Amogy is the leading company in this field. It offers the first available Powerpack that includes a «cracking» technology converting liquid ammonia to hydrogen gas for direct integration into the fuel cells. We are very proud that Green Ships AS and Bourbon Horizon has chosen Amogy´s ammonia-to-power solution for their new ePSV project. It is a testimony to the viability of our solution also for the decarbonization of offshore operations", Christian Berg, Managing Director, Amogy Norway AS, said.
"The technology to convert ammonia into a zero-emissions fuel is ready. Combined with the announced increased capacity in low- and zero-carbon ammonia and ammonia bunkering projects in Norway, Singapore, and the USA, the maritime industry can take concrete steps to reach the IMO goals," Berg added.
One of the notable achievements of the ePSV is its substantial reduction in power consumption, with potential savings of up to 40% across all operational modes, including transit, idling, dynamic positioning (DP), and while at port.
The vessel's design prioritizes minimizing its environmental footprint, characterized by a vertical bow and slender hull form. Additionally, the ePSV has been engineered as a cost-efficient modular vessel, featuring lower steel weight, a streamlined power plant, a compact yet highly efficient thruster system, fewer main components for reduced maintenance requirements, and flexibility for potential conversions over its intended 30-year service life.
In comparison to larger, more powerful offshore vessels, the ePSV boasts impressive DP performance and operability, facilitated by the Voith main propulsion system, Green Ships said.
The ePSVs will be equipped with 2 x 1,850 kW main thrusters and an integrated active roll reduction system, where the well-submerged thrusters would mitigate the risk of air suction into the five thrusters. Furthermore, the ePSVs would fulfill class notations for three contingency functions: Standby/rescue, Oil recovery, and FIFI 1, utilizing its 2 x 2,000 kW auxiliary dual-fuel diesel engines.
Bourbon Horizon, former Bourbon Offshore Norway, which is well-established in the Norwegian offshore segment, will be the commercial and technical manager of the new vessels. The company currently owns and operates seven offshore vessels and is a joint venture between Bourbon Group and Horizon Maritime.