Greensea, Ocean Infinity working on robotic control for Armada fleet
Greensea Systems has signed a contract with Ocean Infinity to provide OPENSEA as the open architecture platform for the Armada Dynamic Payloads Control (DPC).
The two-year contract will see the companies collaborate on creating advanced capabilities for robotic control and supervision for the Armada fleet's payload.
The DPC will provide a framework for supervising and controlling a remotely operated vehice (ROV) system, including the deck gear and launch and recovery system, by operators located at any of Ocean Infinity's remote control centers.
Through the OPENSEA API and OPENSEA SDK interfaces, Greensea, Ocean Infinity, or any partner can easily plug into the Armada DPC to add functionality to the fleet through the open architecture interfaces provided by the OPENSEA platform, Greensea explained.
"Greensea is excited to collaborate with Ocean Infinity on this pioneering technology. Their plan is the most radical shakeup to the way work has been done on and under the sea since ROVs were developed", said Ben Kinnaman, CEO of Greensea.
"This type of paradigm shift can only happen when barriers are removed and multiple companies can collaborate. That's what an open architecture platform, like OPENSEA, does. It removes barriers and fosters collaboration so advancement can happen".
The company will provide engineering services supporting the integration of Armada DPC on the OPENSEA platform. Armada will be implementing Greensea's over-the-horizon command and control suite, SafeC2, as the backbone for DPC.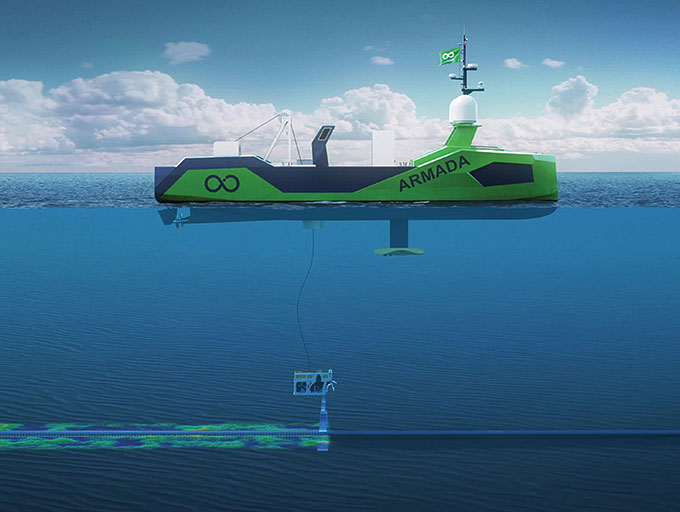 The low-emission robotic Armada fleet, unveiled in February 2020, will initially see 17 bespoke designed uncrewed vessels added to Ocean Infinity's existing robotics fleet.
The vessels, initially measuring 21 metres and 36 metres long, will be able to perform offshore data acquisition and intervention in both shallow and deepwater operating regions. They will use a range of underwater platforms, including remotely deploying autonomous underwater vehicles (AUVs) and remotely operated vehicles (ROVs).
Sonardyne will provide the key sensor technologies for underwater platform navigation, tracking, control and communications, as well as ensuring uninterrupted surface navigation, while Palfinger will provide rescue boats and davits and tailor-made winches for anchoring and mooring operations.
Armada fleet will feature DNV's ShipManager fleet management software for planned maintenance, procurement and business intelligence as well as Valeport's sensor technology for sound velocity and bathymetric data.