Himalaya Shipping welcomes third LNG dual-fuel bulker
Bermuda-based bulk carrier company Himalaya Shipping has taken delivery of the third LNG dual-fuel 210,000 dwt newcastlemax newbuild from New Times Shipbuilding (NTS) in China.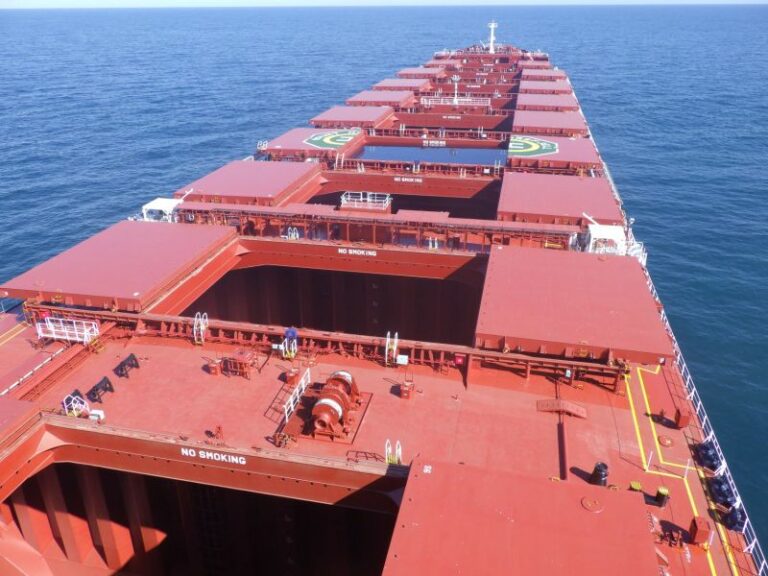 The company announced the delivery of the vessel, Mount Etna, on 13 April, adding it will commence a minimum 24-month charter with an evergreen structure thereafter and will earn an index-linked rate, reflecting a significant premium to a standard Capesize vessel.
The time charters also include a profit sharing of any economic benefit derived from operating the vessel's scrubber or running on LNG, as well as certain rights to convert the time charters to fixed rates based on the prevailing forward freight agreement (FFA) curve from time to time, Himalaya Shipping stated.
"We are excited to take delivery of the third vessel, which is chartered on an index-linked time charter, earning a significant premium to a standard Capesize vessel. We are thankful to the shipyard which again has delivered a high-quality vessel slightly ahead of schedule, despite the previous difficult lock-down situation in China", said Herman Billung, contracted CEO of Himalaya Shipping.
The shipping company has twelve 210,000 dwt newcastlemax newbuilding on order at New Times Shipyard.
The first two vessels, Mount Norefjell and Mount Ita, were delivered in March this year. Another three vessels are expected to be delivered by the end of 2023 and the remaining six vessels are expected to be delivered by the end of the third quarter of 2024.
On 17 February, the construction of the new vessel began at NTS, followed by the launch of the fourth vessel, Mount Blanc, on 1 March. Mount Blanc will be delivered on charter in June and managed by Wilhelmsen Ship Management.
As informed earlier, the ships in this series will be fitted with scrubbers allowing them to run on high-sulfur fuel oil as well as LNG and low-sulfur fuel oil. The shipowner expects that the scrubber installation would increase the flexibility of the vessels and that the investment would be paid back in less than 1.5 years.
According to Himalaya Shipping, the design of the vessels will also allow for future conversion to next-generation fuels.
The vessels will be fitted with ABB's shaft generators with a power-take-off (PTO) solution, comprising new drive systems and permanent magnet technology.
The equipment is anticipated to improve the energy efficiency of the vessels by up to 4% while saving about 20% of space onboard compared to a conventional solution, according to ABB.
The ships will be fitted with MAN ME-GI high-pressure LNG dual-fuel engine, which in combination with in-line shaft generator the concept offers low methane slip.