Hudong-Zhonghua hits several milestones in its LNG strategy
China's Hudong-Zhonghua Shipbuilding has for the first time witnessed a scene of multiple LNG ships being built at the shipyard at the same time as well as two ships undocking at the same time, marking the overall acceleration of the company's LNG production capacity doubling strategy.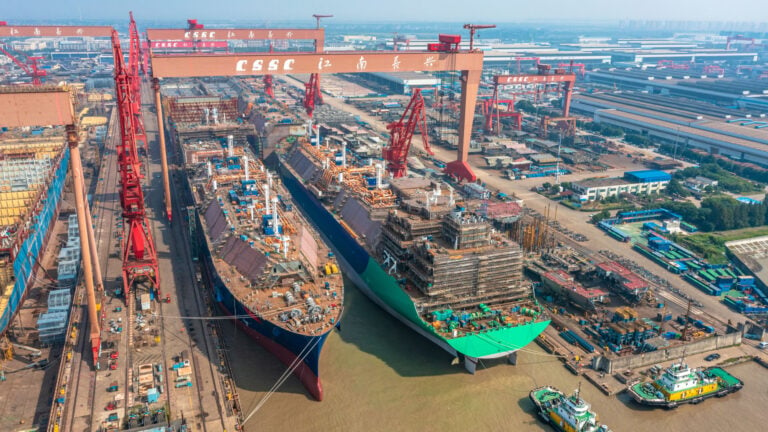 Hudong-Zhonghua said the company completed the first production of a 174,000 cubic meter large-scale LNG carrier project built by Japan's Mitsui O.S.K. Lines and China's COSCO Shipping Energy Shipping, and the COSCO Shipping China Petroleum No. 5 ship of the transport ship project was undocked at the No. 2 dock in the Changxing plant. Furthermore, a large LNG carrier and a 15,500 TEU large container ship are said to be in the dock to achieve half-floating.
The ship of the Mitsui O.S.K. Lines and COSCO Shipping Energy project adopts the fifth-generation 'Changheng Series' LNG carrier model and integrates the latest design concepts in the industry as well as excellent water quality, Hudong-Zhnghua said, adding that the vessel adopts the latest generation of double skeg line type and is equipped with a number of low-carbon and digital technologies. The ship is also said to have good performance, low navigation emissions as well as a high degree of advancement and global versatility.
In regard to the No. 5 ship, Hudong Zhonghua said the vessel's technical performance, environmental protection requirements and reliability requirements have all reached the world's first-class level, adding that the ship's daily fuel consumption is within one hundred tons and meets the most stringent emission standards of the International Maritime Organization (IMO).
To note, the company's LNG ship construction speed is said to be on an acceleration path. A total of four ships have been delivered in 2023, and two more are planned for delivery before the end of the year. On October 18, 2023, another two ships are expected to be docked.