International wave energy collaboration goes full scale
Australian wave energy developer Carnegie Clean Energy, and its German counterpart NEMOS, have reinforced their long-running collaboration with the inclusion of Albany Wave Energy Project to the joint activities.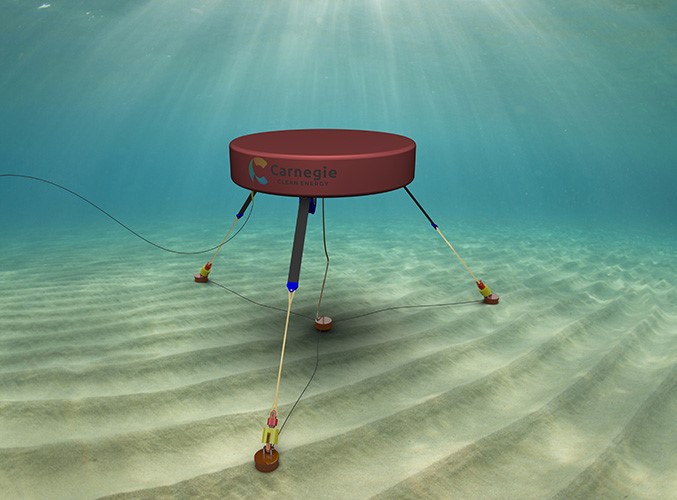 The joint work between the companies began with tank testing campaigns in 2014 and 2016, during which NEMOS provided the model scale power take-off for the Carnegie wave energy converter (WEC).
The collaboration became more intense in 2018 within the development of Carnegie's new multi-moored wave energy converter CETO 6M, according to NEMOS.
In addition to supporting the tank testing campaign at the University of Plymouth, the cooperation expanded as NEMOS got selected as one of the contributors in the development of a rotary power take-off system (PTO) for the Albany Wave Energy Project.
Currently, NEMOS said, it is working on design and manufacturing solutions for the mechanical power transmission system of the 25-meter diameter full scale Carnegie's wave energy converter.
The plans for the Albany wave energy demonstration
The project, located off Western Australia, comprises the design, construction, deployment and demonstration of a grid-connected, up to 1.5MW peak installed capacity wave energy demonstration.
Using Carnegie's Australian invented and owned CETO technology, the Albany project will build on the learnings from the company's Perth Wave Energy Project, and – according to the Australian Renewable Energy Agency (ARENA) – apply the knowledge to the next generation device – CETO 6.
The facility constructed in the project will consist of a single submerged CETO unit with offshore power generation, subsea cable to shore and an onshore substation, in its totality representing a CETO power generating system.
The CETO 6 buoy oscillates with the ocean's waves and transfers energy to a power conversion unit located inside the buoy, generating power offshore. This power is then transmitted onshore via a subsea cable, according to the project information.
Demonstrating the CETO6 unit at the Albany site will allow for the demonstration of the CETO technology in higher sea states, and in increased extreme design waves, ARENA said.
Additionally, the Albany wave demonstration will serve as a showcase for a number of technical and commercial innovations, expected to expand the potential market for the CETO technology.
The new CETO 6 design will be first deployed at the site during the 2019/2020 summer weather window.