JAX LNG and TOTE in renewable LNG bunkering first
U.S. small-scale LNG facility JAX LNG and shipping operator TOTE Maritime have completed the first fueling of a marine vessel in the U.S. with a blend of LNG and RLNG.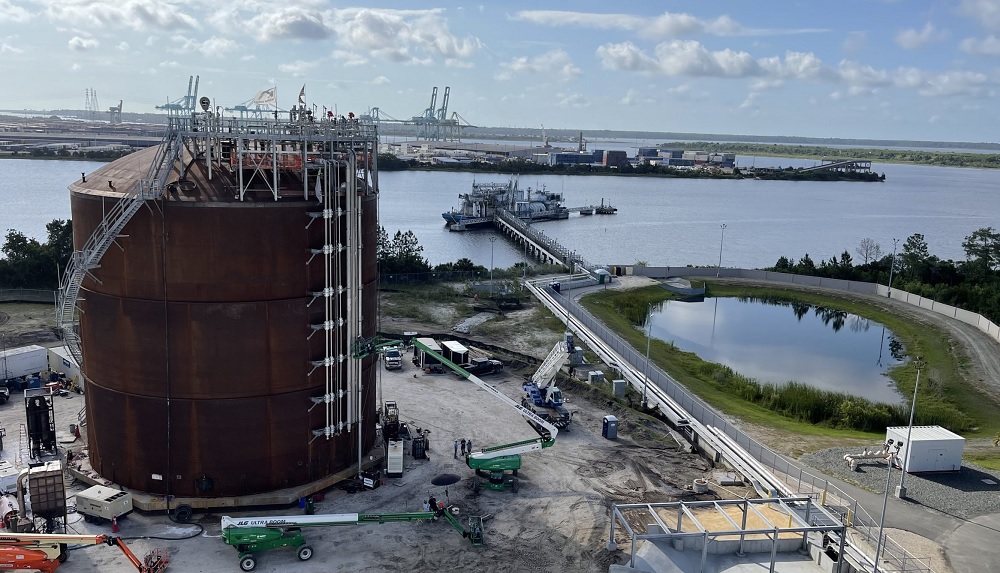 This bunkering event marked the use of a blend of liquefied natural gas (LNG) and renewable liquefied natural gas (RLNG).
JAX LNG loaded the blend into the Clean Jacksonville bunker barge to fuel the Isla Bella.
The Isla Bella is the world's first LNG-powered container ship. TOTE Maritime Puerto Rico put it into service in 2015.
Also, Element Markets supplied the renewable natural gas (RNG) used to produce the RLNG via renewable thermal certificates (RTCs). RLNG as a maritime fuel is even more GHG-reducing than LNG, which already reduces emissions by more than 25 per cent.
To remind, JAX LNG is the long-term supplier to the two LNG-fueled container vessels; the Isla Bella and the Perla del Carib. TOTE Maritime Puerto Rico uses these vessels to transport goods between Jacksonville and Puerto Rico.
Mike Noone, president of TOTE Maritime Puerto Rico, said: "RNG is a clean, drop-in fuel source that can be readily deployed for use today, since it needs no new equipment to capture or transport it."
"Supplying LNG sourced from RNG further supports our commitment to aid the shipping industry's transition to a net-zero emissions future," said JAX LNG representative.
"RNG offers highly flexible pathways to reducing transportation emissions. We are glad to be part of these forward-thinking initiatives to decarbonize large-scale logistics operations," said Angela Schwarz, Co-President and CEO of Element Markets, in short.
JAX LNG began operations in 2018. It is a joint venture between Pivotal LNG, a BHE GT&S company, and NorthStar Midstream.