Keel laid for AAL Shipping's 1st methanol-ready mega-size vessel
CSSC Huangpu Wenchong Shipyard has held a keel-laying ceremony for AAL Shipping's (AAL) first Super B-Class dual-fuel-ready heavy lift multipurpose vessel (MPV).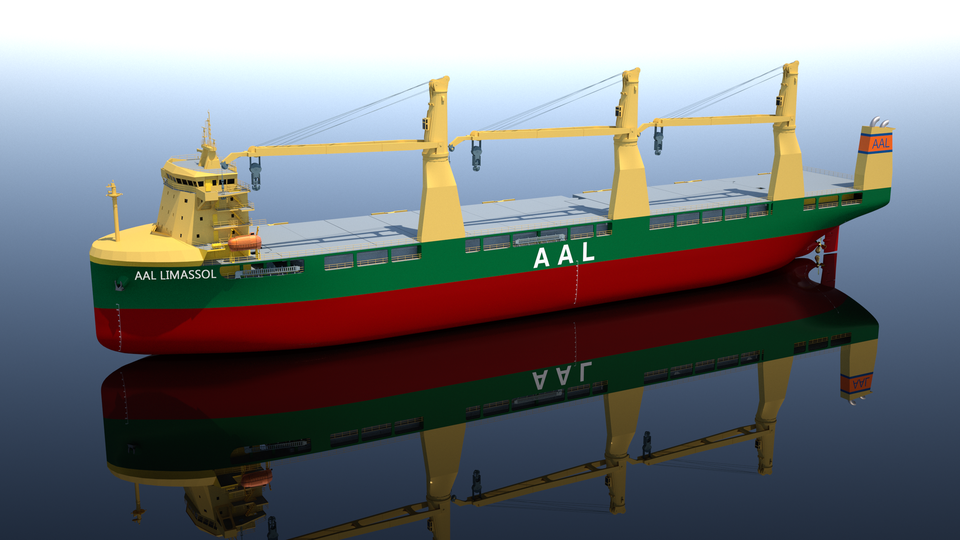 The keel-laying ceremony for the first Super-B Class MV AAL Limassol (hull no. H2469) was held on 28 August. The steel-cutting ceremony for the ship took place in March this year.
According to the company, AAL's Super B-Class vessels break new ground in MPV ship design and the application of cargo handling technologies, featuring design elements that prioritise seafarer wellbeing while optimising cargo intake, security, and handling.
The mega-size ships will measure 179.9 metres in length, with a beam of 30 metres, a depth of 15.5 metres, and a low ballast draft of 6.5 metres, with each vessel capable of carrying up to 80,000 freight tonnes of breakbulk cargo. Each Super B-Class vessel can safely accommodate over 42,000 cbm of cargo big and small on a single sailing.
The weather deck provides 4,500 square metres of clear cargo loading space, with extendable pontoons along the starboard side of the vessel to expand on-deck stowage even further.
The ships are dual fuel and methanol ready and run on MAN main engines of 7,380 kW – supported by 2 x 1,700 kW and 1 x 1,065 kW auxiliary diesel generators.
They are NOx Tier III compatible with HPSCR, EEDI phase 3 compliancy, featuring a projected service speed of 14.5 knots. They will also feature modern ballast water treatment systems and innovative hull coating to delivers greater fuel efficiency and reduce CO2 emissions.
Overall, the Super B-Class are expected to meet the highest possible automation and emission standards, as well as complying with the International Maritime Organisation's (IMO) regulations on emissions and sustainability for environmental protection.
Five of the Super B-Class will be named after major breakbulk ports: AAL Antwerp, AAL Hamburg, AAL Houston, AAL Dubai and AAL Dammam.