Keppel-ExxonMobil collab explores low-carbon ammonia solutions for Singapore
Keppel Infrastructure and ExxonMobil Asia Pacific have signed a memorandum of understanding (MoU) to develop access to low-carbon hydrogen and ammonia for scalable commercial and industrial applications in Singapore.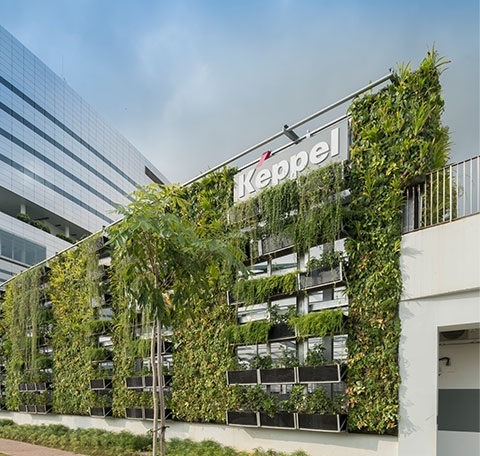 According to Keppel, this MoU follows the Singapore government's launch of its National Hydrogen Strategy in October 2022, which expects hydrogen to meet up to half of Singapore's power needs by 2050.
As part of this hydrogen strategy, the Energy Market Authority (EMA) and the Maritime and Port Authority of Singapore (MPA) issued an expression of interest in December 2022 for proposals to build, own and operate low- or zero-carbon power generation and bunkering facilities on Jurong Island.
To this end, Keppel and ExxonMobil are now collaborating to address the call to develop competitive solutions that can support Jurong Island's sustainability goals and Singapore's hydrogen strategy.
Keppel said it is also looking to use low-carbon hydrogen for Singapore's first hydrogen-ready 600 MW advanced combined cycle power plant. The Keppel Sakra Cogen Plant is expected to operate with at least 30% hydrogen and will have the capability of shifting to run entirely on hydrogen. Currently under construction, the plant will be sited on Jurong Island and is expected to be completed in the first half of 2026.
At the same time, the company is conducting a feasibility study of developing a power plant that could use ammonia directly as a fuel on Jurong Island.
Cindy Lim, CEO of Keppel Infrastructure, said: "Deep decarbonisation of power generation and major industries is a key impetus for countries seeking pathways to net zero emissions. Globally, clean hydrogen is one of the most effective decarbonisation strategies, especially for hard-to-abate sectors, like maritime and petrochemical. As a forerunner in the energy space, Keppel is pleased to work with ExxonMobil to accelerate the end-to-end development and deployment of ammonia to support industries and Singapore's sustainability goals."
ExxonMobil's Asia Pacific President for Low Carbon Solutions, Irtiza Sayyed, noted: "ExxonMobil is pleased to work with Keppel to evaluate low-carbon solutions as part of our goal to reduce our emissions and help others reduce theirs. This is an example of how we can provide critical, scalable solutions to reduce CO2 emissions in support of our company's and Singapore's net-zero ambitions."
ExxonMobil is advancing its world-scale low-carbon hydrogen facility at its integrated complex in Baytown, Texas, from where ammonia will be produced. The low-carbon hydrogen, ammonia and carbon capture facility is expected to produce 1 billion cubic feet of low-carbon hydrogen per day, making it the largest low-carbon hydrogen project in the world at planned startup in 2027-2028.
More than 98% of the associated CO2 produced by the facility, or around 7 million metric tons per year, is expected to be captured and permanently stored.