Matson christens first LNG-ready containership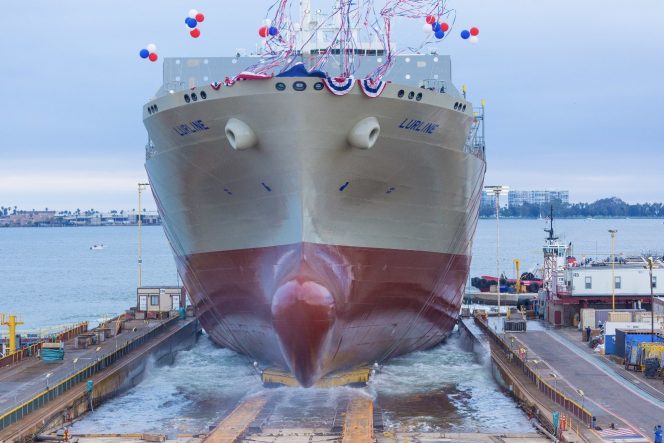 ---
Matson's first Kanaloa-class LNG-ready containership has been named at the General Dynamics NASSCO shipyard.
Matson said on Monday that the vessel was named Lurline, a name carried by the company's first ship of that name in 1887.
The Lurline is the first of two new ships being built for Matson by NASSCO at a total cost of around $500 million for the pair. The company's two Kanaloa Class vessels under construction at the NASSCO shipyard are being built on a 3,500 TEU platform.
At 870 feet long and weighing in at over 50,000 tonnes, Lurline will be Matson's largest ship and the largest combination container and roll-on/roll-off (con-ro) vessel ever constructed in the U.S.
Both new Kanaloa Class vessels will also feature the first Tier 3 dual fuel engines to be deployed in containerships serving West Coast ports.
Under the latest International Maritime Organization requirements for engine manufacturers, Tier 3 engines reduce the levels of particulate emissions by 40 percent and nitrogen oxide emissions by 20 percent, as compared to Tier 2 standards.
Immediately after the breaking of a ceremonial bottle of champagne against the ship's hull, the vessel was released from its build ways and slid backward into San Diego Bay.
Lurline was then docked at NASSCO's nearby testing and trials berth, where the final stages of construction will be completed.  Matson is expected to take delivery of the vessel in late October 2019.
It is worth noting that NASSCO cut first steel on the second Kanaloa-class LNG-ready containership for Matson back in April 2018. The vessel, named Matsonia, is scheduled for delivery in the second quarter of 2020.