MOL gives a glimpse of future large CO2 carrier concept
Japanese shipping major Mitsui O.S.K. Lines (MOL), in cooperation with compatriot Mitsubishi Shipbuilding Co., has completed a concept study of multiple hull forms for a liquefied CO2 carrier (LCO2).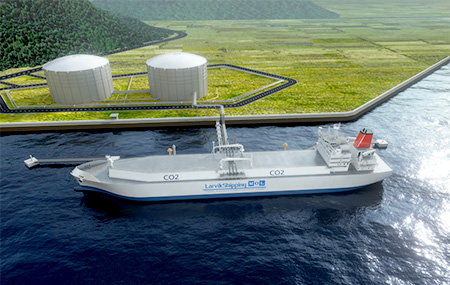 As informed, the partners looked at multiple hull forms which were considered as the most effective and practical. In order to flexibly cope with the volume of cargo transported, the total cargo tank capacity up to around 50 000 cbm was designed with consideration of different tank pressure settings.
"LCO2 carriers will play an important role in the CCUS (Carbon dioxide Capture Utilization and Storage) value chain, which is attracting attention as a means of realizing a low-carbon and decarbonized society, by efficiently connecting captured and LCO2 to storage areas," according to MOL.
MOL entered the business of transporting liquefied carbon dioxide in March 2021, when it invested in Larvik Shipping AS which has managed industrial LCO2 carriers in Europe for over 30 years.
Meanwhile, the company has also embarked on research into the potential for large-scale CO2 carriers as part of a wider initiative led by Japan's New Energy and Industrial Technology Development Organization (NEDO). The project is expected to last from 2021 to 2026, with MOL focusing on the development of the large-size liquefied CO2 carrier to be put into practical use.
The Japanese shipping major said it plans to further expand the business by combining its accumulated expertise and technological capabilities in safe operation with Larvik Shipping's knowledge and solid experience.
The projects are a part of MOL's Rolling Plan 2020 management plan aimed at contributing to the achievement of a decarbonized society.
As part of its increased focus on sustainability in 2021, MOL launched a dedicated division to plan and promote the company's environmental and sustainability strategies, "MOL Group Environmental Vision 2.1."
"MOL will contribute to the realization of a low-carbon and decarbonized society by overcoming the challenges faced in the transportation of LCO2 and accumulating operational knowledge," the company concluded.