MSC, Seaspan welcome new 24K TEU boxship MSC Micol
The sixth 24,000TEU ultra large container ship MSC Micol built by Yangzi Xinfu Shipbuilding, a subsidiary of Yangzijiang Shipbuilding Group, was delivered to the shipowners Seaspan and Mediterranean Shipping Company (MSC) and put into operation.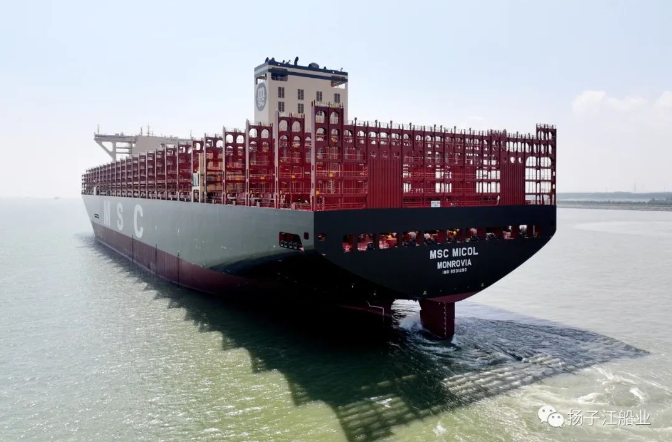 As informed, the vessel was handed over on October 1. The project started back in November 2021 and lasted nearly 2 years. With the latest delivery, the first batch of six containerships has been completed.
According to the shipbuilder, the vessel is currently the new generation of ultra-large container ships with the largest load capacity and largest container volume in the world
The total length of the boxship is 399.99 meters, the width is 61.3 meters, and the deck area is 24,000 square meters. This type of ship adopts new designs such as an air lubrication system, a shaft generator, and a new invisible bulbous bow. 
In a separate statement, MSC has taken delivery f 24,000 TEU containership MSC China from Jiangnan Shipbuilding (Group) Co., Ltd., a subsidiary of China State Shipbuilding Corporation (CSSC).
The ship was designed by Hudong-Zhonghua Shipbuilding (Group) Co., also a subsidiary of China State Shipbuilding Corporation (CSSC), and classed by classification society DNV. The ship has a total length of 399.99 meters, a molded width of 61.5 meters, and a molded depth of 33.2 meters.
Furthermore, the containership is equipped with a hybrid scrubber system, air lubrication technology, as well as a unique small bulbous bow and a large-diameter propeller.
In April this year, MSC welcomed another 24,000 TEU vessel from Yangzi Xinfu Shipbuilding, MSC Loreto.
MSC has taken delivery of four 24K ships, MSC Tessa, MSC Raya, MSC Irina, and MSC Celestino Maresca. Swiss-based container shipping giant has the largest orderbook by far in the industry with over 134 containerships on order. The company has 14 megamax ships and 22 neo-panamax ships on order scheduled for delivery this year, according to Alphaliner.