World's largest: Colossal MSC Tessa delivered to MSC
Chinese shipbuilder Hudong-Zhonghua Shipbuilding has delivered the giant 24,116 TEU containership MSC Tessa to its owner Mediterranean Shipping Company (MSC).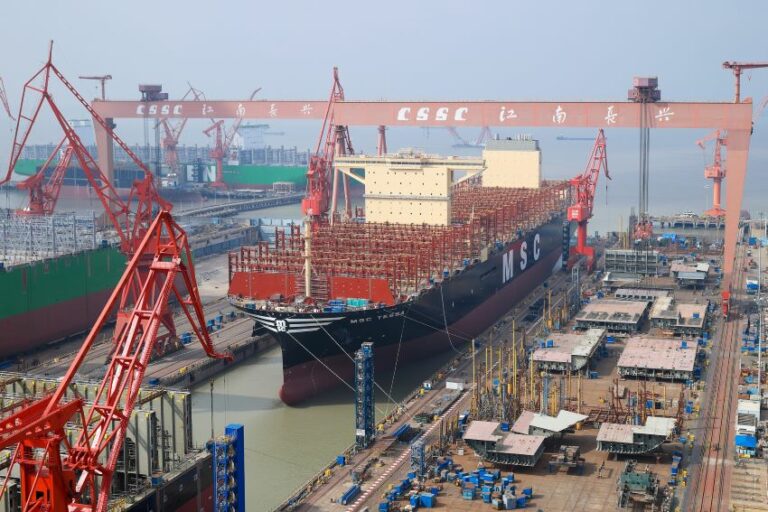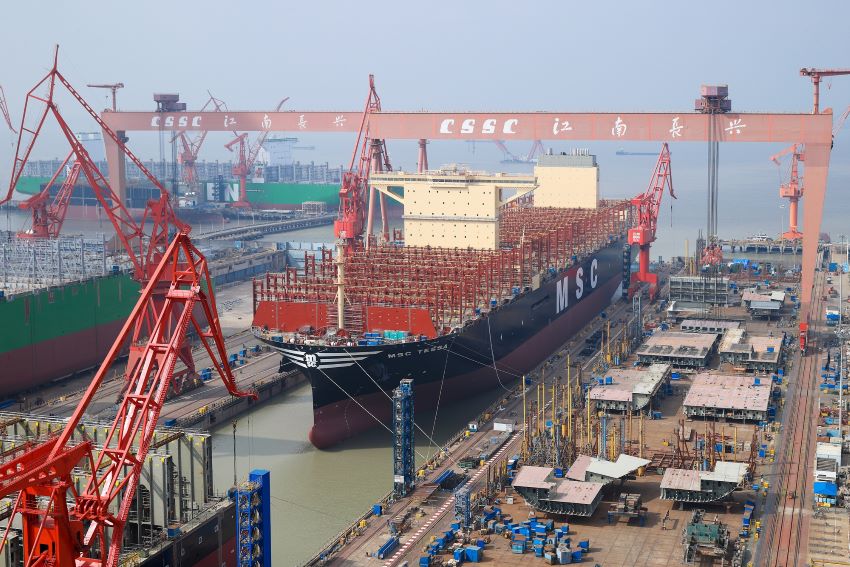 The massive vessel was independently designed by Hudong-Zhonghua and it belongs to the category of the world's largest containerships based on its capacity. The shipyard said that the vessel is actually the largest vessel delivered so far, breaking the record of Ever Alot which was handed over in June last year.
The giant boxship was ordered by China's Bank of Communications Financial Leasing (Bocomm Leasing) for MSC in 2020 as part of a four-vessel deal worth an estimated $600 million.
It comes equipped with a hybrid scrubber, small bulbous bow, large diameter propellers, and energy-saving ducts.
At the same time, the 400-meter-long ship uses air lubrication which reduces the total energy consumption and the corresponding total carbon emissions by 3% to 4%. It is classed by DNV classification society.
The vessel's deck area is close to 4 standard football fields, the molded depth is 33.2 meters, and the maximum stacking layers can reach 25 layers, the equivalent of 22 stories. It can carry more than 240,000 tons of cargo, and it can load 24,116 standard containers at a time.
The shaft generator is also used for the first time, which can effectively reduce fuel consumption, optimize EEDI energy efficiency indicators and reduce greenhouse gas emissions, the shipbuilder explains.
Hudong-Zhonghua Shipbuilding said that the second ship from the series has completed sea trials and that the third and fourth containerships are also under construction. The shipbuilder expects all three vessels to be delivered before August.
The Swiss-based container shipping giant has the largest orderbook by far in the industry with around 134 containerships on order including the latest contract.
Namely, in January 2023 MSC placed an order for ten LNG-fuelled boxships with Zhoushan Changhong, a joint venture between privately-owned Jiangsu Xin Chang Jiang Group and state-owned China International Marine Containers Group (CIMC).
The ten 11,500 TEU vessels have been designed by CIMC's subsidiary CIMC Ocean Engineering Design and Research Institute (CIMC ORIC). The delivery of the newbuilds will be spread between 2025 and 2026.
Aside from the dual-fuel propulsion, enabling the vessels to run on both LNG and conventional fuel, the ships will also adopt the most-advanced ammonia-ready design.
MSC has 14 megamax ships and 22 neo-panamax ships on order scheduled for delivery in 2023, according to Alphaliner. The orders are spread between Chinese and South Korean shipbuilding majors.
Even if some deliveries will be delayed to 2024, the Geneva-based carrier is certain to receive another major capacity boost this year.
Production of MSC's LNG-ready ultra-large containerships is at full speed as well. In January, Chinese shipbuilder Guangzhou Shipbuilding International (GSI) launched a 16,000 TEU ULCVs named MSC Noa Ariela.
The vessel is equipped with the necessary infrastructure to enable for potential conversion to LNG. It will feature air lubrication and a shaft generator to reduce drag and cut fuel consumption while emitting less GHG.
The vessel is the first of eight 16,000 TEU containerships GSI is building for MSC. The ships were ordered back in 2021 in several separate deals for up to 17 LNG-ready Neo Panamax vessels, split between GSI and Dalian Shipbuilding Industry.
DSIC Tianjin yard has laid the keel for another 16,000 TEU containership. The vessel was ordered by China's Minsheng Financial Leasing (MSFL) on behalf of MSC in 2021 as part of a two-ship deal. The duo is slated for delivery in 2023 and 2024.
In terms of its green specifications, the containership, like its sister vessels, will be fitted with air drag reduction technology, as well as a hybrid scrubber system.
In addition to LNG, MSC is also looking into the potential of biofuels. In February, the containership major signed an agreement with German freight forwarder DB Schenker for the use of 12,000 metric tons of biofuel components for all of DB Schenker's consolidated cargo.
The 12,000 metric tons of biofuel component will be blended between 20% and 30%, resulting in approximately 50,000 metric tons of blended biofuel to be used in MSC's container ships, the company said.