MSC shatters records with delivery of 24,346 TEU MSC Irina
The world's largest container shipping company MSC is delivering on its promise to inject massive vessel capacity into its fleet this year.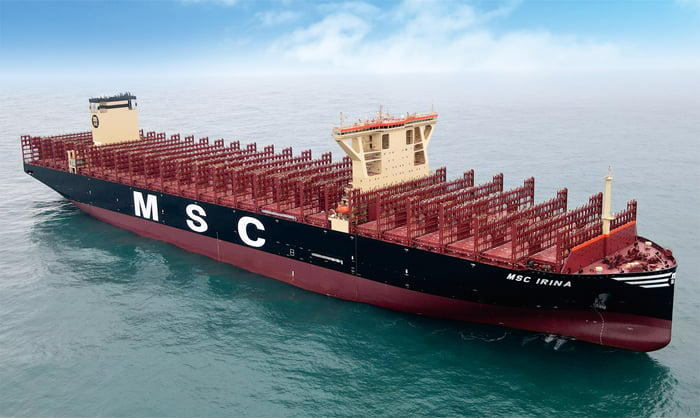 Namely, the Swiss-based container shipping giant has welcomed into the fleet another giant 24,000 TEU vessel, MSC Irina, which was built by Jiangsu Yangzi Xinfu Shipbuilding Co.
With a massive 24,346 TEUs and measuring 399.99 meters in length and 61.3 meters in beam, the vessel is a true mammoth of the seas.
The ship incorporates several innovative energy-saving features, including a small bulbous bow, large-diameter propellers, and energy-saving ducts. It is also equipped with an air lubrication system that reduces drag on the hull and shaft generators that generate additional power.
According to shipyard officials, these technologies could result in a 3-4 percent reduction in energy consumption, thereby cutting CO2 emissions and overall meeting EEDI III.
The delivery of MSC Irina coincides with the delivery of 24,116 TEU MSC Tessa, as both vessels were delivered on March 9, according to China State Shipbuilding Corporation (CSSC).
MSC Irina was scheduled to start its maiden voyage on the afternoon of March 11. Meanwhile, MSC Tessa is already underway in the East China Sea, heading for the Port of Ningbo.
Both boxships were ordered by China's Bank of Communications Financial Leasing (Bocomm Leasing) for MSC in 2020 as part of a four-vessel deal worth an estimated $600 million.
Swiss-based container shipping giant MSC has the largest orderbook by far in the industry with over 134 containerships on order. The company has 14 megamax ships and 22 neo-panamax ships on order scheduled for delivery this year, according to Alphaliner.
The company has been investing significantly in its fleet renewal, and one of the reasons behind the buildup of fleet capacity has been the company's strategy to operate as a stand-alone carrier in the major deep-sea trades once the 2M Alliance ends in 2025.
Bigger is better, or is it?
The introduction of 24,000 TEU vessels in the container shipping sector has undoubtedly had a significant impact. These behemoths represent a massive increase in vessel capacity and offer the potential for economies of scale in terms of both operational efficiency and cost-effectiveness.
Over the past six years, the world's largest containership in terms of capacity has increased from 20,000 TEU (Mol Triumph 2017) to 24,000 TEU +, and it is unclear whether the size increase has peaked.
While these larger vessels can transport more containers in a single voyage, they also pose significant challenges in terms of port infrastructure, supply chain management, and environmental impact.
The deployment of such massive vessels requires ports and terminals to be equipped with larger and more advanced cranes, deeper waterways, and more extensive berth facilities. This poses a considerable challenge for many ports, particularly those that lack the resources or space to accommodate these vessels.
Moreover, the concentration of such a vast amount of cargo in a single vessel increases the risk of supply chain disruption in the event of equipment failure, weather-related delays, or other unforeseen circumstances. As such, carriers must carefully manage their operations to ensure that they can deliver cargo on time and minimize the risk of costly delays or damage to goods.
Another key consideration is filling these ships with cargo to their maximum, as otherwise the premise of economies of scale and expected cost savings may not materialize and shipping companies may face the risk of lower profitability due to underutilization of capacity. This has to be taken into consideration especially as we are seeing overcapacity in the container shipping market driven by demand decrease stemming from global geopolitical tensions, inflation and overall market headwinds.