Ocean Energy Europe's next annual event to be held in the Netherlands
Ocean Energy Europe's annual conference and exhibition will take place in The Hague, the Netherlands, in 2023.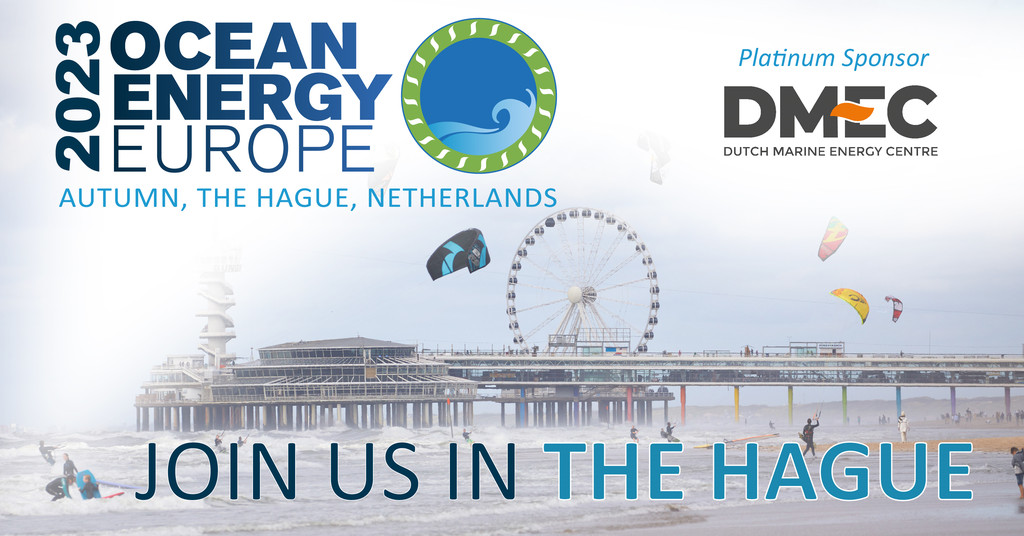 Ocean Energy Europe's Conference & Exhibition (OEE2023) will be hosted by the Dutch Marine Energy Community, led by the Dutch Marine Energy Centre (DMEC) as platinum sponsor with local support from the Municipality of The Hague.
OEE2023 will bring together ocean technology developers, decision-makers, supply chain actors and researchers from around the world to share the latest news from the world of ocean energy, and to define the future direction of the sector.
Since the first edition in 2013, the annual Ocean Energy Europe Conference & Exhibition has grown to be one of the leading European events on ocean energy.
The Netherlands is a natural choice for next year's conference and exhibition, according to the organizers.
Strengthened by the renowned Dutch offshore, maritime and delta tech sectors, the Netherlands is at the forefront of marine energy developments worldwide.
In the growing Dutch Marine Energy Community, technology developers, research- and test facilities, policy makers, investors and corporates work together to develop global showcases for marine energy.
Being the chair of North Seas Energy Cooperation in 2023, the Netherlands aims to take on a leading role in strengthening the collaboration between the North Sea regions. By joining forces, the Netherlands is well positioned to realize a third of the European targets for ocean energy by 2025 up till 2050, the organizers said.
The Hague, as an impact city, and its region offer local and at the same time unique international network opportunities to connect with stakeholders and communities at the forefront of renewable and sustainable energy.
The city is the political capital of the Netherlands, home base for many embassies, industry partners and the Marine Energy Hub. Hosting this conference and exhibition is said to be great opportunity for local and international industry leaders to meet policy makers and address most pressing topics.
Britta Schaffmeister, CEO of DMEC, said: "We are thrilled to welcome ocean energy stakeholders from all over the world in The Hague. The Dutch Marine Energy Community is looking forward to showcase best practices, share insights in approaches towards the blue economy and to  strengthen relationships during a wide variety of activities that will be organized.
"We are grateful to receive full support from local, regional and national public authorities, reflecting the ambition to take the next steps towards a net zero future."
Arjen Kapteijns, deputy mayor for energy transition, and Saskia Bruines, deputy mayor for economic affairs, of the Municipality of the Hague, said: "As city of The Hague we are committed to the 100 Climate Neutral City Mission of the European Commission and as such we welcome Ocean Energy Europe in 2023. The Hague supports sustainable economic development by its ImpactCity program, and sees great potential for marine energy.
"The Hague offers testing facilities offshore, supports companies with finance, housing and access to market and actively facilitates the debate about the future of the North Sea with all relevant stakeholders. These activities are centered at our innovation hotspot [email protected] in the middle of the port area. We look forward to welcoming the international marine energy industry."
Rémi Gruet, CEO of Ocean Energy Europe, added: "We are excited to be taking our annual event to The Netherlands for the first time. The Dutch ocean energy sector has gone from strength to strength in recent years, so now is the right moment to bring ocean energy professionals from around the world here to see it for themselves. OEE2023 delegates can look forward to a real insight into the sector's successes both at home and abroad, combined with plenty of networking opportunities."
Subscribe and follow
Offshore Energy – Marine Energy LinkedIn