PHOTO: Heerema crane vessel titans meet in Port of Rotterdam
Heerema Marine Contractors' massive semi-submersible crane vessels Sleipnir and Thialf finally met in the Port of Rotterdam for the first time on Saturday, 5 December.
Heerema and the Port of Rotterdam Authority shared the photos of the team-up on their websites and social media accounts.
On Saturday, the crane vessel Thialf arrived alongside the Sleipnir at the Landtong Rozenburg spit after a journey across the Atlantic from Canada, where it worked on Exxon's Sable decommissioning project.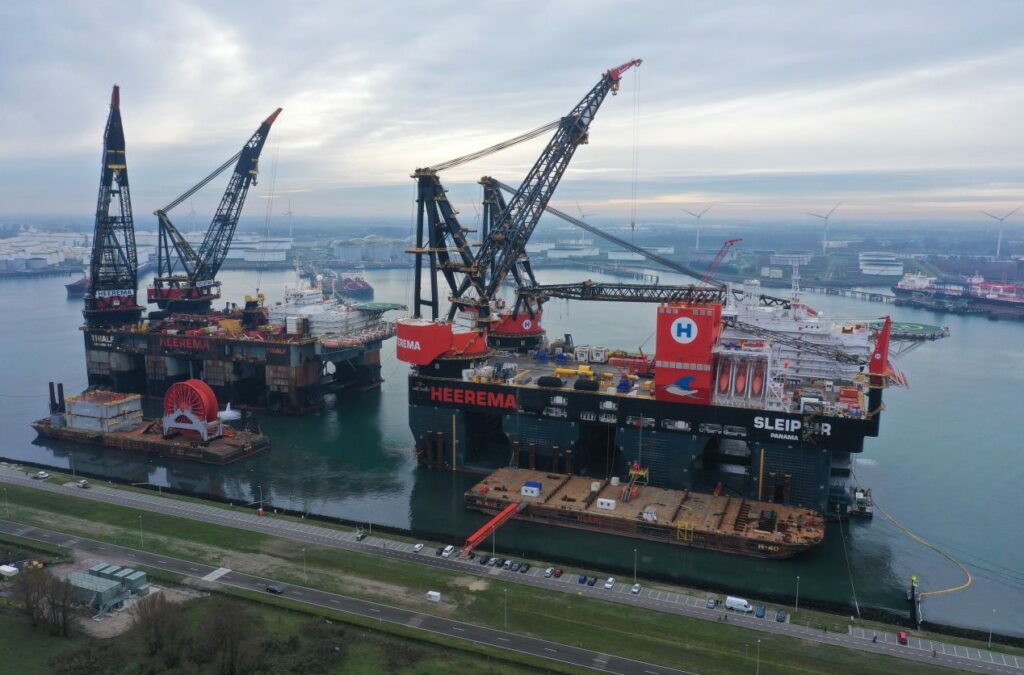 Sleipnir – the largest semi-submersible crane vessel in the world – was put into service at the end of last year. And ever since its maiden voyage, it has been a 'busy bee'. The first project the giant vessel worked on was the record-breaking 15,300-tonne lift on Noble Energy's Leviathan development in September 2019.
Installation of Equinor's Peregrino C was up next and Sleipnir wrapped up that endeavour in January 2020.
In March, the LNG-powered vessel arrived in Rotterdam for the first time. At the time, the giant crane vessel conducted a record LNG bunkering at the port.
More work followed, and Sleipnir worked on the Snorre A platform, Nova project, part of Ekofisk decommissioning, broke a jacket-lifting record with the Jotun-B jacket, removed Brent Alpha jacket, installed Tolmount platform and jacket foundation for Hornsea Two offshore wind project.
The most recent project for the giant crane vessel was the installation of Dana Petroleum's P11-Unity platform, which at 395 metric tons is considered as one of the world's smallest platforms.
The Rotterdam Port Authority said in a statement, which was provided with the photo, that Eneco, Heerema, and the Authority were working hard on installing shore-based power for Heerema's berth on the Landtong. It is expected that the vessels will be able to connect to the shore-based power in spring.
The shore-based power project was announced in 2019. Eneco will supply power from the wind farm on Landtong Rozenburg. To supply the power, an "e-house" of 16 by 9 meters will be built together with several transformers.
Eneco and the Port of Rotterdam Authority have set themselves the goal of providing vessels, in addition to those of Heerema, with shore power at other locations in the vicinity as well.