Samskip's new hydrogen-fueled vessels to feature ABB's propulsion system
Multinational technology company ABB has secured an order to deliver a complete power, propulsion, and automation system for two hydrogen-fueled short-sea container ships being built for Dutch logistics company Samskip.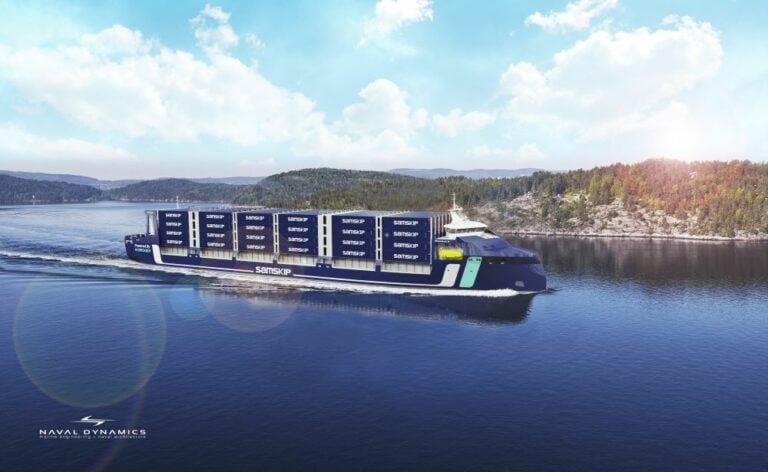 While financial details were not disclosed, ABB said the order was booked in the second quarter of 2023.
The 135-meter ships will be built by Cochin Shipyard, the largest shipbuilding and maintenance facility in India, and are due for delivery in the third and fourth quarters of 2025.
Said to be among the first in the world to demonstrate the potential of hydrogen fuel cells as a clean and renewable fuel source, both vessels will be operating between Oslo Fjord and Rotterdam.
Under the contract, ABB will deliver a comprehensive package, which in addition to the integration of hydrogen fuel cells, includes the new compact version of ABB Onboard DC Grid power distribution system that will ensure the optimal use of energy on board.
The vessels will also feature ABB's energy storage solution control, with the automation technology ABB Ability System 800xA. Leveraging ABB Ability Remote Diagnostic Systems, the vessels will benefit from optimized safety and performance through 24/7 remote support, ABB said.
Samskip's vessels will be powered by a 3.2 MW hydrogen fuel cell each, with diesel generators installed for backup. The logistics group, which aims to achieve net zero by 2040, anticipates that each vessel will be able to avoid around 25,000 tons of CO2 emissions a year when powered by fuel cells and by using green shore power at the port of call.
The project is co-funded by the Norwegian state enterprise ENOVA.
"ABB is delighted to collaborate with Samskip and Cochin Shipyard Limited on this project which will help to avoid emissions and reduce operational expenses," said Juha Koskela, Division President, ABB Marine & Ports. "ABB is at the forefront of shipping's most ambitious plans for decarbonization and setting new standards for green maritime transportation."
"Samskip's level of ambition on emissions requires partners like ABB, with similar objectives for innovation and the willingness to invest in the future," added Erik Hofmeester, Head of Fleet Management, Samskip Group. "These ships are a milestone for the maritime industry, delivering hydrogen fuel cells as a clean and renewable technology."