Sanmar to build another eco-friendly tug for Norwegian operator
Turkish shipbuilder Sanmar Shipyards has signed a new contract with Norway-based vessel operator Buksér og Berging AS to build an environmentally-friendly tugboat.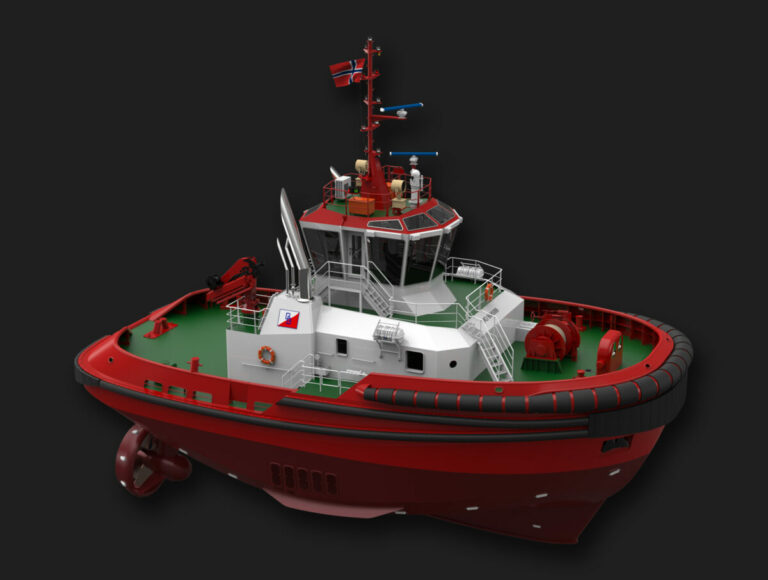 Based on the Sanmar RAmparts 2400SX MKII design from Canadian naval architects Robert Allan, the new tug will be the most technologically advanced and greenest version of the popular RAmparts series and will comply with strict IMO Tier III emissions requirements, according to Sanmar.
Sanmar is already in the process of constructing its eight tug for the firm at its purpose-built shipyards in Türkiye. The vessel is emissions-free electric-powered ElectRA 2200-SX Tug of the Future.
The order for the eight vessel was placed in October last year.
In 2014 and 2015 Sanmar delivered five new-build tugs to Buksér og Berging, including BORGØY and BOKN, the world's first two purely LNG-fuelled tugboats.
In 2021 delivered the Tier III compliant TRAktor 3000-Z design tugs BOB and BAMSE to the environmentally-aware operator.
The latest contract is for a tug measuring 24.40 meters in length, with a 12.00 meters moulded beam and a navigational draft of 5.45 meters,.
The tug will be powered by two CAT 3512E main engines each achieving 1901kW at 1.800 rev/min to drive Kongsberg US 205S P20 CP thrusters. It will be capable of a speed ahead of 12.5 knots and a bollard pull of 60t and include escort notation.
Deck equipment will include a Palfinger PK 11001MA deck crane, Karmoy aft and forward winches and a Triplex tow pin.
According to Sanmar, the tug will differ from a standard RAmparts 2400SX MKII by being the first with a tow pin and stern roller. Other non-standard features will be a hydraulic operated capstan, boiler, sewage treatment unit and an oily water separator.
"It is pleasing when operators that demand the highest environmental standards choose us to build the new generation of cleaner, greener tugboats to meet their low and no-emission targets. Minimising negative impact on the environment is at the heart of how we build tugboats at Sanmar, and we are proud to be leading the way to a sustainable tug and towing industry through innovation and technological advance with our latest tugs," Ruchan Civgin, Commercial Director of Sanmar Shipyards, said.
"We are continuously renewing our fleet with the aim to reduce emissions and provide effective towage services in Scandinavian waters. These two new buildings represent a big step forward and underline our continued tradition with Sanmar of creating innovative tugs for future towage service. We look forward to taking delivery and start operations with competent Norwegian maritime personnel onboard," Vetle J. Sverdrup, MD of Buksér og Berging AS, commented.