Singapore, Rotterdam Extend R&D Cooperation Deal
MPA Singapore and Port of Rotterdam Authority have renewed their Memorandum of Understanding (MoU) on cooperation in information exchange and research and development (R&D).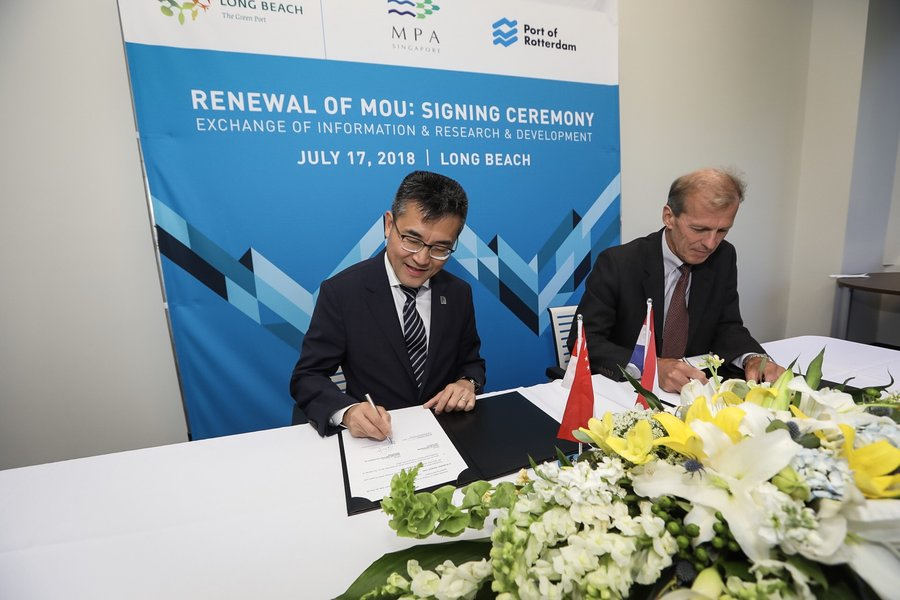 Since the commencement of the MoU in 2015, MPA and PoR have been working together in key areas such as maritime cybersecurity, LNG bunkering and next generation vessel traffic management systems.
The renewal of the MoU, signed by Andrew Tan, Chief Executive of MPA and Allard Castelein, Chief Executive Officer of PoR, seeks to further the collaboration between the parties in port digitalisation, port services, port safety and operations and handling of autonomous vessels in port.
"This renewal of the MoU between PoR and MPA reaffirms the commitment of both parties to jointly collaborate and exchange best practices and new ideas. Collaboration in maritime cybersecurity, LNG bunkering and innovation not only fosters partnerships between MPA and PoR, but also benefits the maritime innovation ecosystem," Tan said.
The agreement was signed on July 17 at the sidelines of the 4th Port Authorities Roundtable held in Long Beach, US.