Study launched to assess power supply for green hydrogen/ammonia project in Malaysia
Five industry players, including Korean construction company Samsung Engineering, have signed a memorandum of understanding (MoU) to study the potential of supplying at least 900MW of hydro-based renewable power for a green hydrogen/ammonia project in Malaysia.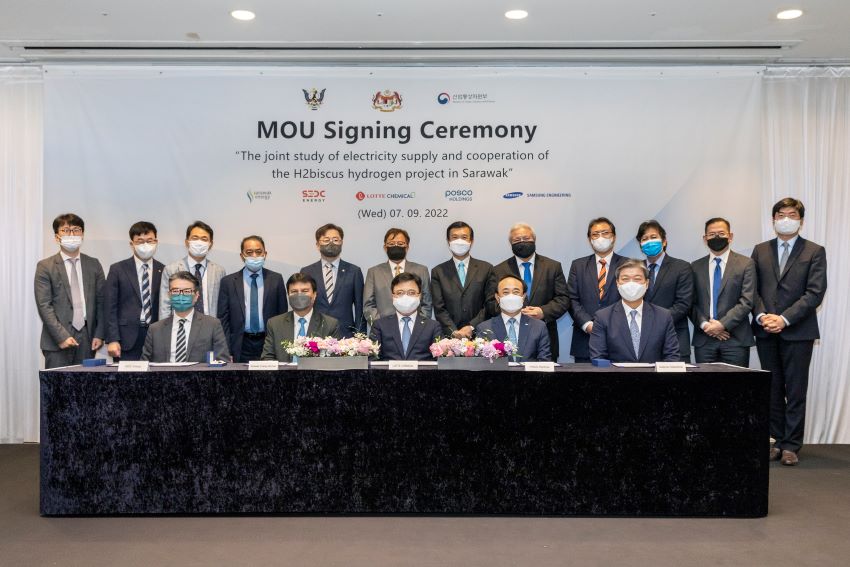 The MoU was signed by SEDC Energy, Sarawak Energy Berhad, Lotte Chemical and POSCO Holdings for the so-called H2biscus project in Sarawak.
The agreement builds upon the MoU signed by Samsung Engineering, Lotte Chemical and POSCO Holdings with SEDC Energy for the H2biscus project earlier this year.
Under the new deal, the five companies will jointly study the power supply capacity and facilities such as substations and transmission infrastructure that would be required to supply the project.
In addition, the completion of the H2biscus project feasibility study is anticipated within this year and the goal of commercial production is set by the end of the year 2027.
If confirmed to be commercial and technically feasible, the project is expected to contribute to the achievement of the Korean carbon neutrality goal and the vitalization of the hydrogen economy.
Of the products to be produced in this project, all blue and green ammonia and blue methanol, except for a portion of green hydrogen which will be used locally in Sarawak, will be imported to Korea and used by Korean companies.
Samsung Engineering, Lotte Chemical and POSCO Holdings plan to take the lead in introducing clean hydrogen in Korea by developing overseas clean hydrogen projects in cooperation with major overseas clients.
Samsung Engineering CFO & executive vice president Ju-Seong Cheong said: "We expect that the signing of this MoU for renewable power supply will be an important milestone in the Sarawak H2biscus project, and we are confident that we will provide a successful project through our existing robust local network."
Last month, Malaysian state-owned energy company Petronas agreed with several Korean companies, including Samsung Engineering, on joint cooperation in the development of the Shepherd CCS project, an international project between Korea and Malaysia, Asia's first carbon capture, transportation, and storage business.