TECO 2030 moves into its new giga fuel cell production factory
The Norwegian cleantech company TECO 2030 has taken over the building that will become home to its new fuel cell giga factory in Narvik, northern Norway.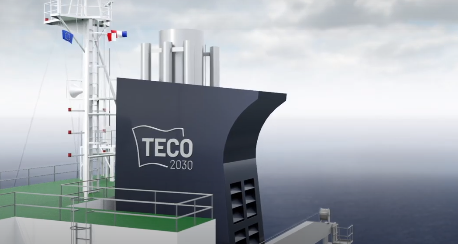 The planned combined fuel cell factory and innovation centre is set to become Norway's first large-scale production of hydrogen-based fuel cells.
"This building is highly advanced, ready to be put to use and is perfect for us. We will now spend the next couple of months evaluating what of the existing infrastructure there we can use, before the detailed planning of the plant and the production lines starts in the autumn," said Erling Hoftun, chairperson of TECO 2030 Innovation Center AS.
"We will start the process of hiring people to work at the plant in the first half of 2022, and we plan to begin manual pilot production of fuel cells at the factory already later the same year."
The building where the plant will be located is owned by the property company Teknologiveien Eiendom AS, which is renting it out to TECO 2030 ASA on a long-term lease agreement with a purchase option.
TECO 2030 is evaluating different financing alternatives for the factory and is exploring possibilities for getting public funding for the project. Over the next ten years, TECO 2030 expects total investments in the plant in Narvik to amount to up to NOK 1 billion.
During that period, up to 500 new jobs are expected to be created in Narvik within development, pilot production and full-scale production. TECO 2030 expects to have around ten employees at the plant already by the end of 2022 and about 100 before the end of 2025.
"The establishment of our combined factory and innovation centre in Narvik will not just be good for the climate because the fuel cells that will be produced there will contribute to reducing emissions from the maritime sector. It will also contribute to economic growth in northern Norway," said Tore Enger, Chief Executive Officer of TECO 2030 ASA.
Hydrogen fuel cells convert hydrogen into electricity while emitting nothing but water vapour and warm air. By installing hydrogen fuel cells, ships and other heavy-duty applications that currently get their energy from diesel engines or diesel generators can switch from fossil fuels to climate-friendly hydrogen and become completely emissions-free.
TECO 2030 is developing fuel cell technology in cooperation with the Austrian powertrain technology company AVL.
The production of fuel cells for use within the maritime industry is still in early stages, and TECO 2030 will therefore give research communities – such as universities and other non-profit organisations – the opportunity to use the plant's fuel cell element testing facilities during periods when they are not used.
TECO 2030 plans to produce fuel cells with a total capacity of 10 MW at the factory in 2022 and intends to gradually scale up the plant's output over the following years.
By 2030, the factory aims to be able to produce 1.2 GW of fuel cells every year, leading to several billions of NOK in annual turnover. Fuel cells with a combined capacity of 1.2 GW can produce as much electricity as a large nuclear power plant.
When ships replace their diesel engines with these fuel cells, the result will be annual emission savings of around 4 million tonnes of CO2, which is equivalent to the total annual emissions of approximately 870,000 diesel and petrol cars, according to numbers from the U.S. Environmental Protection Agency.