TGS completes Capreolus 3D survey data acquisition from Polarcus
Norwegian geophysical company TGS has completed the purchase of the Capreolus 3D seismic survey from marine seismic player Polarcus.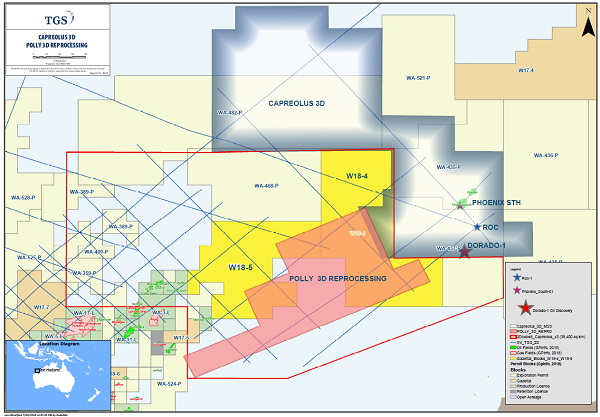 TGS said on Wednesday that Capreolus was a 22,130 square-kilometer full broadband 3D seismic survey covering two hydrocarbon provinces with proven, but underexplored, oil and gas plays in the Beagle and Bedout sub-basins offshore northwest Australia.
The Capreolus survey includes modern 3D coverage over the Phoenix South and Roc oil and gas discoveries.
The seismic survey also spans the Dorado-1 exploration well and Phoenix South-3 appraisal well, currently being drilled. Dorado-1 encountered light oil in the Caley Member and gas-condensate in the Baxter Member and, as of August 8, light oil has been confirmed at the deeper Crespin and Milne Members.
TGS also announced the reprocessing of the Australian Polly 3D seismic survey and neighboring open file data.
Acquired in 2013, the Polly 3D covers 7,970 square kilometers and ties into the adjacent Capreolus 3D survey. The Polly survey is being reprocessed using broadband PSDM techniques with reprocessed products available from November 2018.
Kristian Johansen, CEO of TGS, said: "The combination of the Capreolus 3D with the neighboring reprocessed Polly 3D dataset provides E&P companies with modern contiguous 3D data linking the current Dorado-1 oil discovery to the Acreage Release blocks W18-4 and W18-5 currently on offer."
It is worth noting that Polarcus initially signed an agreement for the sale of the Capreolus 3D survey in late June for a cash consideration of $6.5 million.