U.S. Navy starts WETS upgrades as Triton-C undergoes final pre-deployment tests
Oscilla Power is finalizing pre-deployment activities for its Triton-C wave energy device that will be deployed at U.S. Navy's WETS site in Hawaii once the ongoing infrastructure upgrades are completed.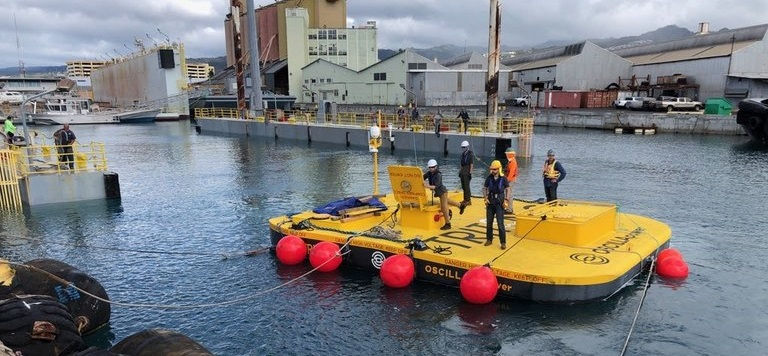 The Triton-C wave energy device, rated at 100kW, is still dockside in Honolulu where it is undergoing final testing and troubleshooting while Oscilla Power awaits for the U.S. Navy to complete upgrades on its berth at the Wave Energy Test Site (WETS) in Kaneohe Bay, the company informed.
The U.S. Navy, via its contractor Sea Engineering, started work on the replacement of the existing old anchors at the WETS just last week, as the unfavorable weather conditions hindered earlier start of operations.
According to Oscilla Power, new anchors are needed as the existing anchors have degraded severely since they were installed almost 15 years ago.
"There is very little sand at this location so the new anchors need to be bolted into the seafloor. Divers are being used to complete this work which is expected to take another couple of weeks, assuming the weather cooperates," Oscilla Power said.
Following the anchors replacement works, the U.S. Navy will upgrade the electrical infrastructure at the test berth as the final preparation step ahead of Triton-C deployment.
While the Triton-C is designed to produce 100kW in energetic West coast waves, the waves at the Hawaii site are about half the rated level due to a milder climate.
In addition, the test site is physically constrained to only allow 30kW to the grid, enough to provide power for about 25 houses, Oscilla Power said earlier.
The WETS test site consists of three operational grid-connected wave energy testing berths located offshore the island of Oahu.
The site already featured a 30-meter deep test berth suitable for testing point absorber type wave energy converters, but with the addition of two deep-water berths at 60 and 80 meters in 2015, both point absorber and oscillating water column testing have since been supported at WETS.
Triton-C device is multi-mode point absorber wave energy converter that consists of a geometrically optimized surface float connected to a ring-shaped, vertically asymmetric heave plate.
The relative motion between the surface float and the reaction ring, caused by the movement of the waves, is exploited to produce clean power.
---
Follow Offshore Energy – Marine Energy
---