UK's new subsea protection ship to be ready by summer
The first of two subsea protection ships dedicated to safeguarding the UK's oil and gas pipelines, as well as seabed telecommunications cables, has arrived in Merseyside.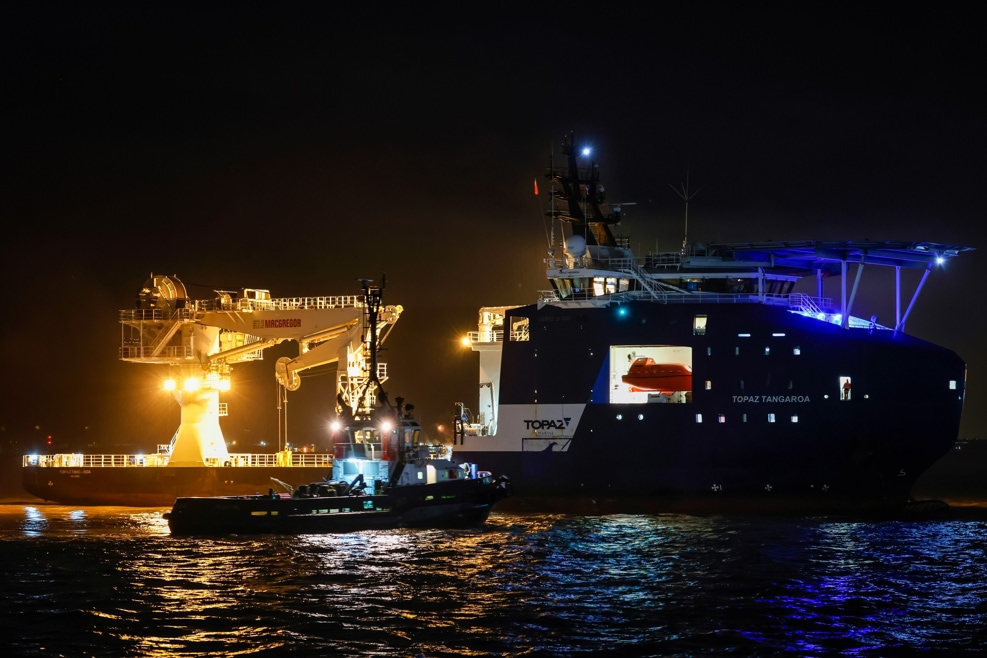 After a formal handover to the Royal Navy in the coming days, the ship is expected to undergo a period of military modification.
The handover will take place several months ahead of schedule, following an acceleration of the acquisition announced by the Defence Secretary in November 2022.
The ship is slated to be operational in the summer of 2023. The programme for the acquisition of a second ship is currently in the concept phase.
Shortly after its arrival at Cammell Laird, the ship is expected to be repainted and have critical military equipment installed, before taking up its role as the first of two Multi-Role Ocean Surveillance (MROS) ships, operated by the Royal Fleet Auxiliary (RFA) later this year.
Dubbed Topaz Tangaroa but planned to be rechristened as it joins the RFA fleet, the ship was selected to meet the needs of the Royal Navy, having been built four years ago to support a mix of underwater operations, including work on oil rigs, construction, maintenance and inspection work, as well as autonomous submarine operations.
Ben Wallace, Defence Secretary, said: "The first of two dedicated subsea surveillance ships will join the fleet this summer, bolstering our capabilities and security against threats posed now and into the future." 
The 98-meter-long, adaptable offshore patrol vessel is planned to serve as a 'mother ship', operating remote and autonomous offboard systems for underwater surveillance and seabed warfare, vital to British national security.
It weighs 6,000 tons and is equipped with a helipad, crane, and expansive working deck and features a 'moon pool' – a large access point in the underside of the hull through which submersible capabilities can be launched.
According to the UK government, the ship will be crewed by around two-dozen RFA sailors, while around 60 Royal Navy specialists will operate the undersea surveillance systems and other survey and warfare systems when embarked.
"This is an entirely new mission for the Royal Fleet Auxiliary – and one we relish," said David Eagles, Head of the Royal Fleet Auxiliary.
"We have been entrusted with supporting a key operation to safeguard the UK's infrastructure, security and prosperity and that fills all of us in the RFA with pride. These are really exciting times."