Unifeeder invests in up to four methanol-powered containerships
Danish short sea operator Unifeeder has signed a time-charter deal for up to four methanol-powered containerships.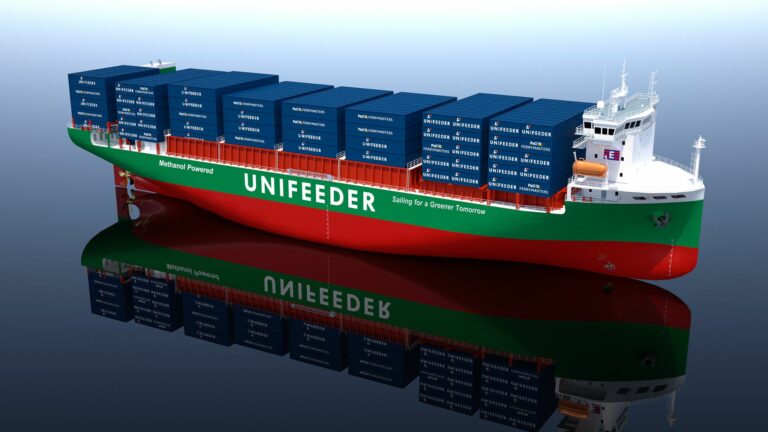 German-based shipowner Elbdeich Reederei will build and manage the 1250 twenty-foot equivalent unit (TEU) vessels which are slated for delivery in 2026. The contract includes two frim vessels, with the option of hiring two more ships.
Specifically, Unifeeder plans to deploy the new boxships on its European network, where the new vessels will make a significant contribution to lower the emissions of the network, the company noted.
In parallel with the delivery of the methanol-capable vessels, Unifeeder plans to improve the fuel efficiency of the entire fleet deployed and increase the use of biofuels on the conventional vessels in the fleet.
"As the number of methanol-capable vessels increases in both our operations and those of our customers, my hope is that this drives an increase in innovation and production amongst methanol producers. This will then complete a virtuous circle and ensure we can operate more and more methanol capable vessels with the right colour of methanol fuels in our networks," Jesper Kristensen, Group CEO of Unifeeder Group, said.
"Ultimately though, the greenest fuel is the fuel that is not burned. We strive to offer our customers solutions that support their own sustainability journeys and whilst these new vessels are part of the answer, efficient routing, securing high levels of vessel utilisation and dedicated capacity management across all of our offerings have major roles to play as well."
The newbuilding project is the latest step in a series of efforts that have been undertaken between Unifeeder and Elbdeich Reederei to reduce emissions within the jointly-operated Unifeeder fleet.
This includes the first test of synthetic natural gas as a fuel on a commercial vessel, the continuous use of biofuels and various vessel modifications made to reduce the fuel consumption of existing tonnage.
The investment in these new ships also supports Unifeeder Group's ambitious decarbonization plan. 
Unifeeder has committed to a 25 per cent reduction of emissions by 2030, carbon neutrality by 2040 and net-zero emissions by 2050. It aims to achieve this by emphasizing fuel-efficient practices, regular maintenance and refitting processes of the existing fleet.
"We believe in methanol-capable vessels as part of a suite of solutions being deployed to reduce carbon emissions in our sector and are happy to contribute with this project to a greener future in shipping. We really look forward to operating these modern state-of-the-art container feeder vessels in our partnership with Unifeeder and hope other market participants will follow this example," Robert Frese, Managing Director at Elbdeich Reederei, added.