Verdant Power preps turbines for autumn setup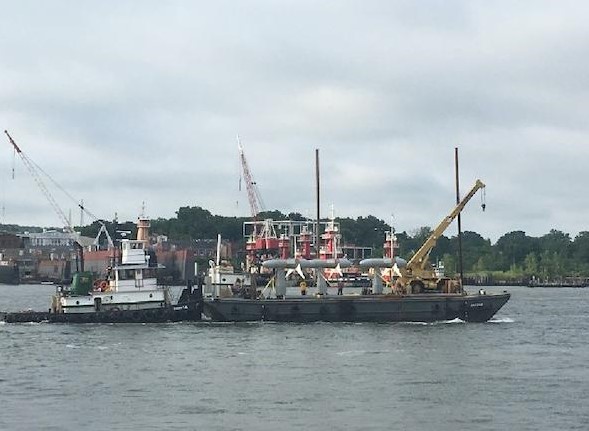 Verdant Power has taken additional steps toward the installation and demonstration of an array of its three, fifth generation (Gen5) tidal power turbines on the company's novel TriFrame mount at its Roosevelt Island Tidal Energy (RITE) Project site in New York City's East River.
Prior to the Covid-19 pandemic, the US-based company assembled turbines in New Jersey, with remaining components ready for final assembly.
During the 2-month Covid-19 shutdown, Verdant Power made progress on the necessary steps to install its tidal power system in early autumn.
Verdant has now shipped the turbines by barge from its New Jersey marine engineering support services facility to a nearby marine vessel installation services area.
There they will integrate onto a Verdant Power TriFrame mount in preparation for on-water delivery, deployment, and demonstration at the RITE Project site.
Furthermore, the RITE project control room on Roosevelt Island is being enhanced and readied for the turbine system installation.
The RITE project will see Verdant generate electricity under a hydrokinetic pilot project license issued by the Federal Energy Regulatory Commission (FERC).
During the project, the European Marine Energy Centre (EMEC) will conduct a third-party assessment of the system's power performance.
Verdant Power secured $6 million in funding for the effort in late 2018, including support from the US Department of Energy and also the New York State Energy Research and Development Authority (NYSERDA).
Related news
List of related news articles