Verdant Power runs a million-dollar tidal investment round

US-based developer Verdant Power has reached over the minimum investment target in an ongoing equity crowdfunding campaign set up to support the implementation of the company's fifth generation tidal energy technology in a New York City project.
Counting over 15 years of technology development experience and more than $37.5 million successfully raised and invested in R&D and business development, Verdant Power is once again in search of fresh funding – this time for the fabrication and testing of a 105kW TriFrame system at the Roosevelt Island Tidal Energy (RITE) project site in New York's East River.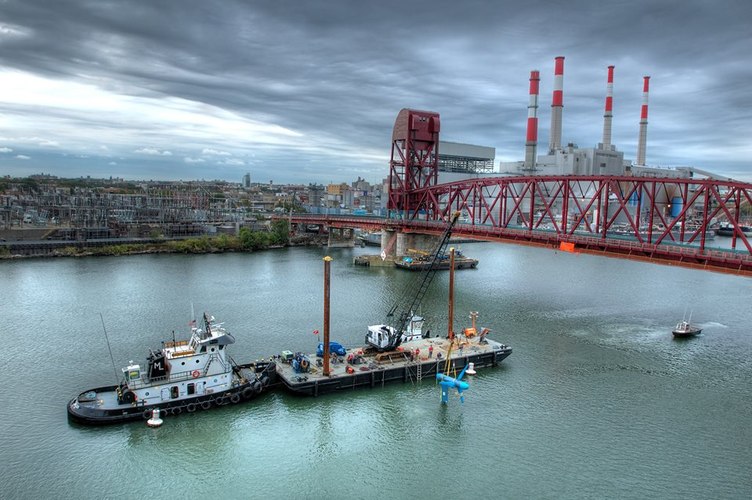 The company has put its common stock on offer as part of the crowdfunding campaign facilitated by the Netcapital platform in a move which can already be deemed a 'success' as the minimum target of $10,000 has already been secured ahead of June 12, 2018, deadline.
At minimum investment entry of $70, the campaign has so far raised a little over $24,000 for Verdant Power, which is aiming to collect a maximum of $1 million.
The TriFrame foundation testing, planned for 2018, is part of Verdant Power's fifth generation (Gen5) free flow tidal energy system development – set to become the company's 'commercial standard system'.
Before manufacturing for operation at the RITE project, the system's key components such as failsafe brakes, composite blades, and integrated gearbox units will be put final tests, Verdant Power said.
The company is at the same time also focused on a design cycle that integrates the Gen5 free flow system with a TriFrame mounting system to optimize deployment and retrieval by installing three Gen5 horizontal-axis turbines simultaneously, according to the information on Netcapital platform.
Aside from foundation system testing, the money from the round will be used for Verdant Power's general working capital in 2018, the company said.
Verdant Power anticipates the additional funding beyond this issuance, that will, according to the company, support in-water demonstration, and commercial project resource assessment and ultimately global launch of its products.
To remind, the RITE project site already hosted a grid-connected array of Verdant Power's Gen4 tidal turbines as part of its pilot project.

The demonstration, which took place from 2006 until 2009, included the operation of six full-scale tidal turbines, which delivered electricity to operating New York City businesses, representing the world's first operation of a grid-connected array of tidal turbines, according to Verdant Power.