VIDEO: Can decommissioning ever be agile?
On the North Sea alone hundreds of platforms and thousands of subsea wells need to be decommissioned. Not surprisingly operators and service providers preparing for this wave in decommissioning, focus very much on cost reductions.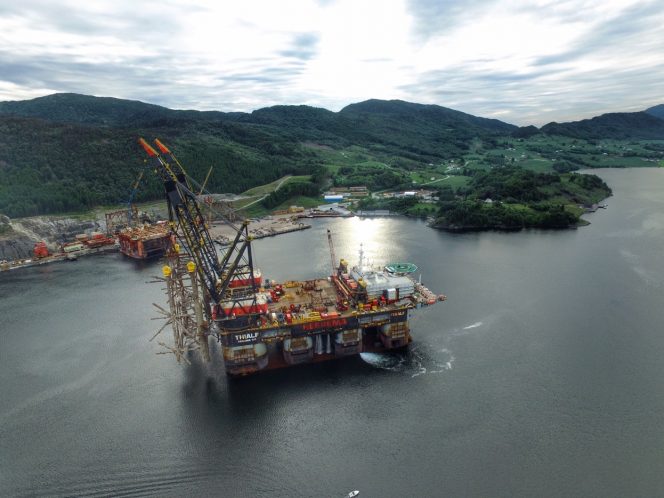 During last months' Offshore Energy event in Amsterdam, Maarten Bouwhuis, BNR Nieuwsradio, and his guests talked about the biggest barriers and the most promising solutions they see in a session titled: "Can decommissioning ever be agile?"
This talk-show, with contributions from Jacqueline Vaessen, General Manager, Nexstep – John Warrender, Chief Executive, Decom North Sea, Vincent Thönissen, Manager Fleet Improvements, Ampelman, Innovation Department, and Anthony Fievez, Business Development Manager, Heerema Marine Contractors was livestreamed on OffshoreEnergyToday.com
During the talk-show, Nexstep's Jacqueline Vaeseen explained how her organization is helping with the challenge ahead for the decommissioning in the Dutch Sector of the North Sea, where there are some 150 platforms, 600 wells, and hundreds of kilometers of pipelines.
Vaesen says the goal is to cut the decommissioning costs by 30 percent in the Dutch offshore sector, through innovation, shared learning, and collaboration.
When it comes to collaboration, Ampelmann's Vincent Thönissen points to the fact that the decommissioning is a "no gains" industry for the oil operators, making this fact a good trigger to work together and be more agile and efficient.
While not conducting removal work itself, Thönissen says his company is one of the key enablers for decom work, as its gangways are being used for walk-to-work solutions helping workers carry out the necessary decom works offshore.
Nexstep's Vaesen agrees with Ampelman's Thonissen on the collaboration part. Vaesen says that there are now eleven operators working together on decommissioning knowledge sharing, as decom is not where they make money, so sharing best practices will lead to cost reductions.
UK sets 35% decom cost target
John Warrender, CEO of Decom North Sea, a UK-based organization with 350 members thinks similarly when it comes to knowledge sharing.
He's acknowledged that there is great competition in the traditional E&P market, however, hee feels decommissioning is a different game where one shouldn't be too protectionist about knowledge sharing.
Asked whether the legislation can help with sharing more, Warrender said the legislation in the UK is "very much facilitating and encouraging" knowledge sharing, however, the companies may have, to a degree, be reluctant and feel they're giving away intellectual property or revealing some mistakes.
"I think the industry is changing and some of the major operators are leading the way and being much more open about the information they want to share," Warrender said.
According to Warrender, the UK has set a cost reduction target of 35 percent, and there's an indication this is "quite achievable" over the life of the assets.
As for the numbers, Warrender says there are some 200 platforms, 3000 wells and several thousand kilometers of pipelines to be scrapped by 2025 in the UK.
Heerema Marine Contractors: Workload increasing in decom sector
Heerema Marine Contractors is a Dutch marine installation company, but more and more of the work it is conducting is in the space of decommissioning, meaning not just installation, but removal too.
Anthony Fievez, Business Development Manager, Heerema Marine Contractors has shared that in the past 20 years, HMC has removed about 250 thousand tons of steel as part of offshore decommissioning work.
Now, in the next five year, Heerema is looking at removing around 180.000 tons.
"If you compare the last twenty years and the next five it's almost doubling in volume. There's a lot of growth for us in the decommissioning world," Fievez said.
As a lot of talk during the talk-show was about cost cuts, Fievez shared some facts and best practices learned from the company's recent removal of the Murchison platform in the UK North Sea where it helped the operator cut the cost and remove the platform two years ahead of schedule.
"Cost? It's a conversation with operators. We advocate the operators should focus on three things: Safety, cost, and reputation. Decommissioning can be devastating for reputation if done poorly.
"We advocate the operators should focus on three things: Safety, cost, and reputation. Decommissioning can be devastating for reputation if done poorly."
"You've got a look at a complete picture. Lowest price on bid may not necessarily be the cheapest outcome for the operator."
"Murchison is an example of that where we actually bid to do quite a bit of the preparation work from the facility itself and that was for us the cheapest execution plan, but that meant that CNA had to keep the facility open for an extra six months and had its own cost.
After signing the contract we had a discussion on how to do it cheaper and came to the conclusion where if you pay us to have a heavy lift vessel alongside for a bit longer then you can stop your operational expenditure much earlier and that way the whole project is much cheaper for CNA [ the operator].
---
Watch the video below to learn more about the decommissioning differences in between the North Sea and the Gulf of Mexico; what DNS is doing abroad, and how the local decom companies can internationalize its business; why decommissioning should be looked at differently than construction, what's the role of start-ups, and the role of legislation, and what influence does the oil price volatility have on the offshore decommissioning projects.
Offshore Energy Today Staff
---
People also read
Offshore Energy 2018 | ON AIR talk-show: Brexit. What's the deal for the offshore industry?
Offshore Energy 2018 | ON AIR talk-show: Incorporating sustainability in policy, strategy, and behavior
Offshore Energy 2018 | ON AIR talk-show: System integration across borders
Offshore Energy 2018 | ON AIR talk-show: Benefits and challenges of offshore platform electrification
Offshore Energy 2018 | ON AIR talk-show: Hydrogen – the holy grail for transmission
Offshore Energy 2018 | ON AIR talk-show: CCS as a lifeline to reaching Paris goals
Related news
List of related news articles