World's 2nd zero-emission pure battery tanker makes historic bunkering debut
Japanese shipping firm Asahi Tanker Co. has taken delivery of the world's second pure battery tanker, named the Akari.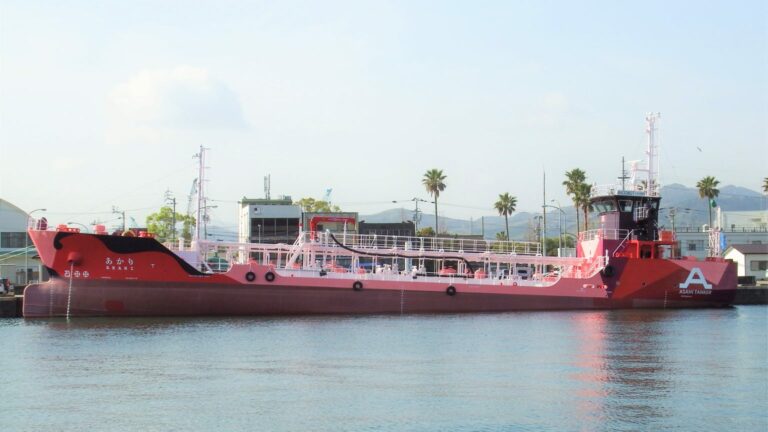 The vessel completed its historic first bunkering operation in Kawasaki on April 14, supplying the MOL-operated iron ore career UNTA. 
The vessel was built by Imura Shipbuilding and it was delivered to its owner on March 28. The pure battery tanker then sailed from the shipyard to Tokyo Bay to enter services.
The Akari will conduct zero-emission bunkering in the Keihin region along with the world's first pure battery tanker, the Asahi, which was delivered in March 2022.
Asahi ordered the zero-emission tankers back in October 2020 and they adopt the "e5 tanker" design developed by e5 Lab Inc, a company set up by Mitsui O.S.K. Lines, Asahi Tanker, Exeno Yamamizu Corporation and Mitsubishi Corporation to build up infrastructure services in the marine shipping industry that focus on electrically powered vessels.
Specifications
Dimensions: LOA 62m / Breadth 10.30m / Draft 4.7m
Ship classification society: Nippon Kaiji Kyokai (ClassNK)
Cargo: Fuel oil
Gross tonnage: 497 tons
Speed: About 10 knots
Cargo tank capacity: 1,279m3
Propulsion equipment: Azimuth thrusters 300kw x 2 Side thrusters 68kw x 2
The tankers are powered completely by large-capacity lithium-ion batteries of 3,480 kwh capacity.
Large-capacity batteries power every phase of the ships' operations, including cargo handling, berthing/unberthing, and navigation. This results in zero emissions of greenhouse gases (GHGs) from the vessel.
The vessels integrate various automated equipment and digital tools including the Internet of Things (IoT) to reduce the crews' onboard workload and increase the ship's operating efficiency. 
"The tankers deliver outstanding environmental performance, and are expected to reduce crewmembers' workloads by reducing engine maintenance requirements;" MOL said.
"MOL and Asahi Tanker will continue bunkering using electric powered tankers to help reduce GHG emissions."