Yang Ming, HD Hyundai Heavy Industries seal deal for five 15,500 TEU LNG-fuelled containerships
Taiwanese shipping company Yang Ming Marine Transportation Corporation has signed a contract with South Korea's shipbuilding major HD Hyundai Heavy Industries Co., for the en bloc construction of five 15,500 TEU LNG dual fuel container vessels.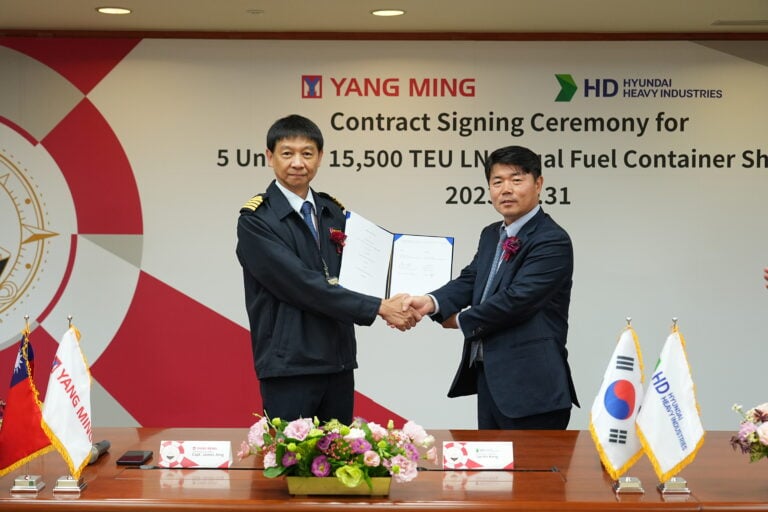 These new vessels are scheduled to be delivered in 2026.
The contract signing comes on the back of the recent bidding process for the ships which was launched back in August 2022.
The newbuilds will be compliant with Tier III NOx regulations and meet the Energy Efficiency Design Index (EEDI) Phase 3 requirements. Phase 3 calls for all vessels to achieve at least a 30% reduction, with some ship types targeting 50%.
The dual-fuel ships will run on LNG, very low sulpfur fuel oil (VLSFO) and marine gas oil (MGO), according to the tender specifications released a year ago. Yang Ming wants the vessels to have an endurance of about 23,500 nautical miles in gas mode and approximately 12,400 nautical miles in fuel mode.
The five 15,500 TEU vessels will be equipped with high-pressure LNG dual fuel main engine and ballast water treatment system to meet the latest environmental regulations. In addition, they will feature an advanced integrated system for navigational information and operation monitoring, as well as broadband maritime satellite system, Yang Ming sai, adding that these technologies are integral for collecting navigational big data and enhancing the safety of the vessels.
The shipowner announced earlier this month that it was ready to finalize the negotiations for the vessels following all necessary board approvals.
The move comes as Yang Ming works to renew its fleet and make it more energy efficient as the global maritime industry moves toward a net zero carbon emission target by 2050, which is expected to be announced at the IMO MEPC80 meeting in July.
"On top of implementing energy-efficiency retrofits and management on the existing fleet, a dedicated desk has been set up to monitor energy efficiency and the development of future marine fuels," Yang Ming said.
LNG has been is believed to be a transitional fuel to net zero solutions, however, it is one of the most mature solutions on the market currently integrating all the necessary infrastructure. However, there is a path for the investment to be future-proof in the long term as shipowners who have invested in the LNG pathway will be able to shift to renewable synthetic LNG (e-LNG).
For the time being, the production of e-LNG faces the same challenge any other 'green' e-fuel, which is a lack of green hydrogen produced using electrolysers powered by renewable energy. Therefore, the build out of renewable energy is the principal obstacle to commercial production of all e-fuels.
Yang Ming's current operating fleet comprises 94 vessels, with a capacity of approximately 715,000 TEU. With these five 15,500 TEU LNG dual fuel container vessels, Yang Ming believes it can optimize its fleet, reduce operating costs, and improve carbon emission reduction.
"These new vessels will facilitate greater flexibility in vessel deployment, enhance the company's overall competitiveness, and provide comprehensive and quality service to customers," the company said.