Yang Ming ready to move forward with acquisition of LNG-powered boxships
Taiwanese shipping company Yang Ming Marine Transport Corporation is set to launch contract negotiations for the construction of five LNG dual-fuel 15,000 TEU-class container carriers.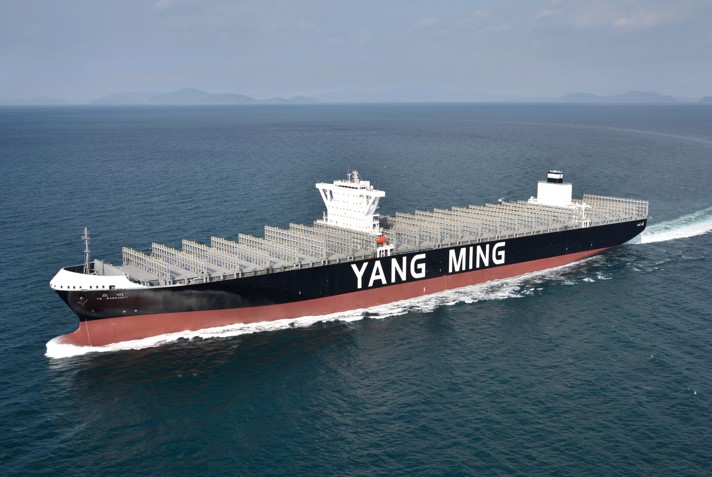 The company said that it was now ready to move to the negotiation stage for the contract signing and construction matters after going through an open and extensive bidding process.
Yang Ming said earlier today that the path toward contract finalization comes on the back of approval of the procurement by the company's Board of Directors.
As reported earlier, the company launched a bidding process for the construction of the ships in August 2022.
The company is seeking Neo-Panamax container vessels with a nominal container loading capacity of 15,000-16,000 TEU. The newbuilds need to be compliant with Tier III NOx regulations and meet the Energy Efficiency Design Index (EEDI) Phase 3 requirements. Phase 3 calls for all vessels to achieve at least a 30% reduction, with some ship types targeting 50%.
The dual-fuel ships will run on LNG, very low sulpfur fuel oil (VLSFO) and marine gas oil (MGO), according to the tender specifications. Yang Ming wants the vessels to have an endurance of about 23,500 nautical miles in gas mode and approximately 12,400 nautical miles in fuel mode.
Vessel particulars:
Length overall abt. 366 M
Breadth, moulded <=51.2M
Depth, moulded abt. 29~32 M
Design draught, moulded abt. 14.50 M
Air draught <= 65.00 M
Ship speed 22.0 knots at the design draught
When it comes to delivery dates, the first ship is expected in the first half of 2025 while the final one should be completed and delivered by the end of the first half of 2026.
The Taiwanese shipping major revealed its plans to build LNG-fuelled 15,000 TEU vessels back in April, saying it would be the first shipping company in Taiwan to own such ships.