Danish Minister visits HySynergy facility, discusses green fuels and hydrogen
Danish Minister of Industry, Business and Financial Affairs, Morten Bødskov, has paid a visit to the HySynergy facility to talk about green fuels and the "next big export adventure," hydrogen.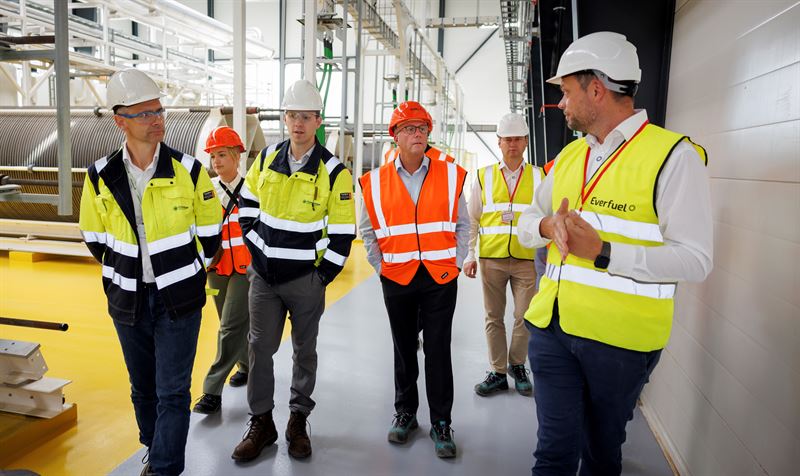 According to the Danish green hydrogen provider Everfuel, Minister Bødskov was introduced to how hydrogen already today can be sent through the direct pipeline connected between Everfuel, the producer, and Crossbridge Energy, the customer.
The small hydrogen pipe can deliver more than 8 tons of hydrogen per day to the refinery which can be used to make traditional fuels greener, as well as to produce green fuels for e.g., air and shipping, Everfuel said.
Both Everfuel and Crossbridge Energy claimed that on- and offshore renewable energy combined with Power-to-X and the production of green fuels can become the next big export adventure supporting finance Denmark's welfare society for generations to come.
Minister Bødskov commented: "Denmark has a unique position to become Northern Europe's green epicenter. In a few years, the goal is for us to produce more green electricity than we can use ourselves. HySynergy is a shining example of how the hydrogen producer and consumer are connected. We must succeed in this on a larger scale to unleash a Danish export adventure in hydrogen."
"The government has already taken the first initial steps towards a joint hydrogen pipeline between Denmark and Germany. We must take advantage of our green leadership position in the world and deliver the climate-friendly solutions which other countries seek."
Finn Schousboe, CEO of Crossbridge Energy, added: "We are on the verge of a new and greener future. Hydrogen is the key to producing green fuels, which requires large-scale hydrogen production, and HySynergy shows the way to the future. Hydrogen pipeline infrastructure is absolutely essential for scaling needed to continue and accelerate the green transition."
Jacob Krogsgaard, CEO and Founder of Everfuel, stated: "With Denmark and Germany's agreement on a joint hydrogen pipeline, it is clear that the government and supporting parties recognize Denmark's unique position within green hydrogen and the importance of a hydrogen infrastructure in the energy transition. It is vital for Denmark and first-movers that a competitive hydrogen pipeline infrastructure is established without many expensive intermediaries if we as a society are to leverage our unique potential."
"Everfuel will be ready to deliver large quantities of hydrogen into the pipeline network to domestic and international end users, and now is the time to make the required political push to cultivate the connection to the German customers so the industry in Denmark can make the necessary investment decision on the production capacity."
To note, HySynergy is expected to have the capacity to produce green hydrogen that may facilitate an up to 500,000 tons reduction of carbon emissions per year from the industry and the mobility sectors.
Follow Offshore Energy's Clean Fuel: