Eneco and OCI join NortH2 offshore wind-to-hydrogen consortium
Energy company Eneco and OCI N.V., a global producer and distributor of hydrogen-based products, have joined the NortH2 green hydrogen consortium as collaborative partners.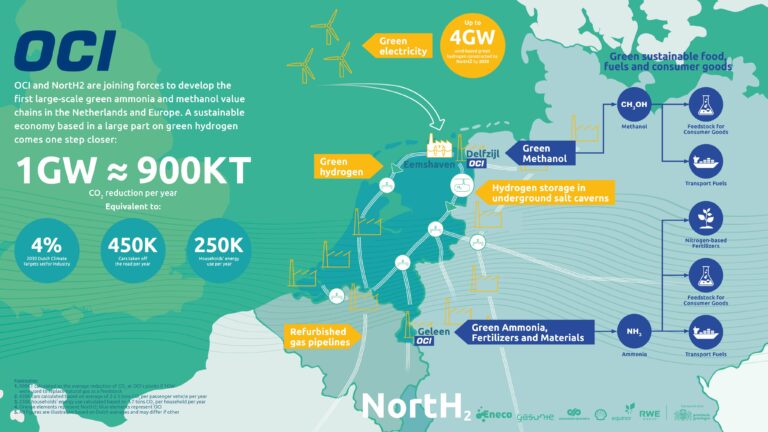 Eneco is joining the NortH2 consortium of Equinor, RWE, Shell, and Gasunie as an investment partner. Groningen Seaports is a support partner on the project.
OCI, on the other hand, intends to develop the first integrated green ammonia and methanol value chains through large-scale green hydrogen supply by NortH2 to the company's plants in the Netherlands.
NortH2 is a large-scale offshore wind-to-hydrogen electrolysis project being developed in the Eemshaven area, the Netherlands.
The hydrogen will be produced for industrial sectors that are difficult to electrify, or for which hydrogen is a necessary raw material.
NortH2's aim is to have up to 4 GW of electrolysers and matching offshore wind capacity available by 2030.
On a project base, this is estimated to reduce the use of natural gas by around 1.5 billion cubic meters per year. Depending on the application, green hydrogen is expected to lower CO2 emissions by some 2.9 to 3.6 megaton annually.
NortH2 will continue to grow towards the production of 1 million tons of green hydrogen per year by 2040.
NortH2 has recently completed the second phase of the feasibility study, which shows that an integrated approach; from offshore wind farms, production, storage and distribution to ultimately the use of the green hydrogen; is technically and economically feasible. One other requirement is for the government to create the right policy framework, Eneco said.
OCI said that by joining forces with NortH2 the company will be provided with a stable and large-scale supply of green hydrogen which allows it to decarbonize its production processes and meet a growing demand from its customers in the downstream value chain for renewable hydrogen.
With ~50 per cent of current global hydrogen production already used as a feedstock in ammonia and methanol production, the switch to green hydrogen at OCI is technologically straightforward and relatively fast when compared to other sectors, the company said. In addition, OCI's production assets are said to be strategically located and ideally positioned to connect to the NortH2 project and the planned hydrogen pipeline backbone of Gasunie in the Netherlands.
Ahmed El-Hoshy, Chief Executive Officer of OCI N.V., said that the collaboration with the NortH2 consortium is "a critical partnership that helps OCI, as a key enabler of the hydrogen economy, activate sustainable value chains for society and industry, create a positive impact on the environment, and simultaneously help reduce the country's dependence on natural gas by using green hydrogen."
"Green ammonia and methanol production is a logical starting point to develop a green economy in the Netherlands and Europe as it creates a wide range of green products helping create sustainable value chains of food, fuels and consumer goods," El-Hoshy said.