Energy companies unite to form hydrogen value chain in Germany
The companies BP, Gasunie, Nowega, NWO, Salzgitter, Thyssengas, and Uniper are connecting their hydrogen projects in north-west Germany to network Wilhelmshaven as a future location for hydrogen import and production with the industrial consumption centres in North Rhine-Westphalia and Lower Saxony.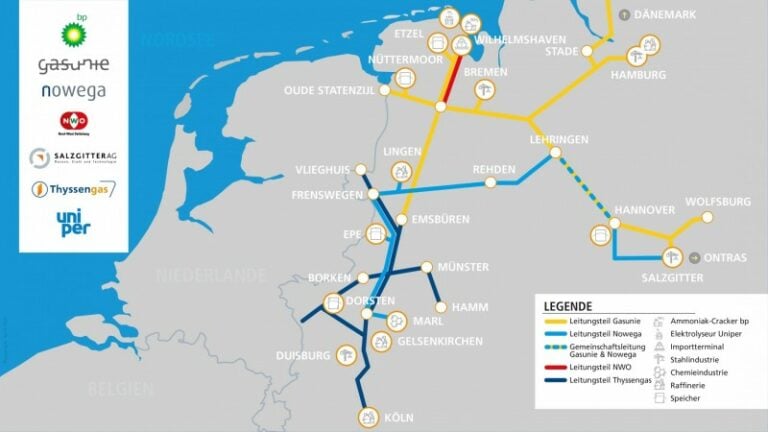 According to Uniper, in Wilhelmshaven, BP and Uniper are planning various projects to import or generate hydrogen, while Gasunie, Nowega, NWO, and Thyssengas are bringing existing transport lines and plans for new H2 pipelines to the overall project. In addition to the hydrogen consumption locations of bp and Salzgitter in the Rhine-Ruhr region and in Salzgitter, other companies are to be connected to the hydrogen infrastructure in the Rhine-Ruhr region or in Salzgitter. In regard to that, Uniper said that the companies involved have signed a letter of intent (LoI).
Uniper pointed out that since the companies are participating in the alliance with various hydrogen projects, they thus represent the entire H2 value chain.
BP and Uniper intend to set up an ammonia import terminal at the Wilhelmshaven site, and this landed ammonia will be broken down into hydrogen and nitrogen on-site using a thermochemical process. In addition, Uniper is planning to set up a large electrolysis plant in Wilhelmshaven, which will use offshore wind power from the North Sea to produce green hydrogen. Both BP and Uniper have defined their plans as projects of mutual interest (PMI) and projects of common interest (PCI) and submitted them to the European Commission (EC). A decision on recognition is expected this year.
Gasunie and Thyssengas are planning a hydrogen north-south corridor between Wilhelmshaven and the chemical region of Cologne. The approximately 400-kilometre transport connection is expected to be completed by 2028 by converting existing transport lines and adding new construction. Both companies have submitted PCI applications to the EC for their respective sections.
Uniper said the planned north-south corridor will make a significant contribution to the development of an integrated hydrogen network, which is expected to reach the BP refineries in Emsland and the Ruhr area as well as many other potential H2 consumers along the route. In addition, Gasunie and Nowega are in favour of building a west-east corridor to connect the partner Salzgitter. Nowega and NWO are also contributing parts of their existing pipeline network to the alliance, Uniper noted.
Axel Wietfeld, Managing Director of Uniper Hydrogen, commented: "This partnership gives Uniper's 'Green Wilhelmshaven' projects, the large electrolysis and the ammonia import terminal with cracker, the fastest possible access to the future consumption centres for green hydrogen. We are pleased to be able to significantly accelerate the development of the European hydrogen economy."
Thomas Gößmann, Chairman of the Thyssengas Management Board, stated: "A faster hydrogen ramp-up is only possible with combined forces… no more and no less than a central element of the future hydrogen market in north-west Germany should be created by 2028. What is still missing is a regulatory framework that creates planning and investment security and that politicians must now deliver promptly."
Hans Jonk, Managing Director of Gasunie Energy Development, noted: "Together we are building a functioning hydrogen economy. We also invite other interested parties to do so."