Evergreen returns to Hudong-Zhonghua Shipbuilding for two more 24,000 TEU behemoths
Chinese shipbuilding major Hudong-Zhonghua Shipbuilding, a subsidiary of China State Shipbuilding Corporation, has won an order for the construction of two 24,000 TEU containerships from Evergreen Group.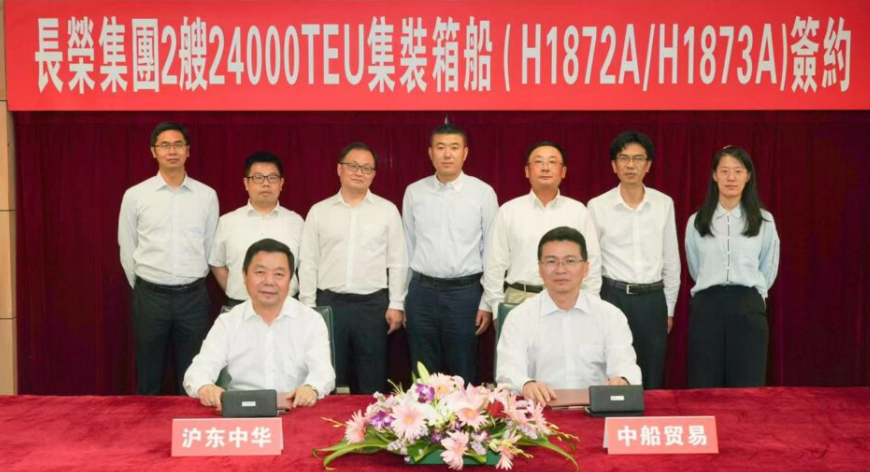 This is a repeat order, building on the contract between CSSC and Evergreen Group signed in November 2019, when the Taiwanese shipowner ordered four 23,000 TEU container ships. The newbuilds have since been upgraded to 24,000 TEU.
Hudong-Zhonghua is building two vessels from the previous order, the construction of which is said to be progressing well. The remaining two vessels from the series are being built by China's Jiangnan Shipyard.
The company has ten 24,000 TEU A-type containerships on order, with four estimated for delivery in 2021 and the remainder in 2022. The remaining six have been booked at South Korea's Samsung Heavy Industries (SHI). The vessels will be a mix of Evergreen owned and chartered in.
The 24,000 TEU containerships ordered on June 18th are independently designed by Hudong Zhonghua, and will feature a myriad of green features including high efficiency, energy-saving, and safety solutions in line with Tier III emission requirements, the shipbuilder said.
As disclosed, the ships will have a specific bow design, large-diameter propellers, and energy-saving ducts to ensure low energy consumption.
The 24K TEU containerships are slated for delivery in 2024, according to Clarksons Shipbroking.
Hudong-Zhonghua has built nearly 60 large-scale containerships for major ship owners across the globe, including five 23,000 TEU dual-fuel LNG-powered container ships.
Taiwanese container shipping company Evergreen Marine has been on a major fleet rejuvenation campaign. Earlier this year, the shipowner hired SHI to build twenty 15,000 TEU containerships in a deal worth about $2.5 million. As informed, the newbuilds are expected to be delivered by the end of June, 2025.