HMM joins hands with LOTTE Fine Chemical on ammonia shipping
South Korean shipping major HMM has signed a Memorandum of Understanding (MoU) with compatriot specialty chemicals company LOTTE Fine Chemical for the marine transportation of ammonia.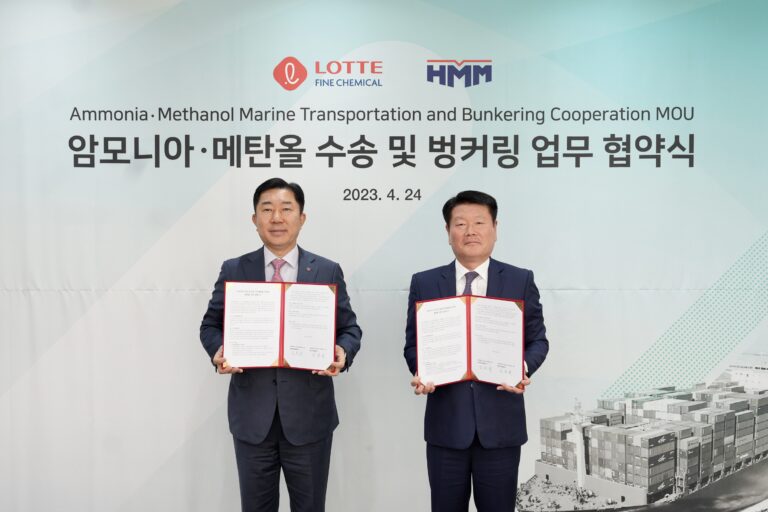 The MoU also covers the bunkering of ammonia and methanol fuel and comes after HMM made a major order for methanol-powered containerships.
As reported in February, HMM has ordered nine 9,000 TEU containerships powered by methanol dual-fuel engines from Hyundai Samho Heavy Industries (HSHI) and HJ Shipbuilding and Construction (HJSC).
The ships are scheduled to be deployed on the Asia-North/Latin America trade lanes and the Asia-India routes, with expected delivery from 2025 to 2026.
HMM said that the green shipping corridors between Busan in Korea and key ports in the U.S. are also one of the potential routes to operate the new ships.
In addition, the company has teamed up with five fuel suppliers, including Proman, PTTEP, European Energy, and Hyundai Corporation, to secure the supply of methanol for its newly-ordered vessels.
The latest cooperation deal between HMM and Lotte builds on the work of a consortium HMM made in 2021 with five Korean partners to seek feasible solutions to form the end-to-end supply chain for green ammonia. LOTTE Fine Chemical was one of the five members.
Based on the MoU signed today, HMM will carry ammonia fuel secured by LOTTE Fine Chemical and take charge of overall vessel operation during transportation. LOTTE Fine Chemical, which has Korea's largest ammonia storage facility, plans to procure ammonia and methanol fuel for the supply to HMM's vessel.
According to the 'Net Zero by 2050' scenario reported by the International Energy Agency(IEA), ammonia attracts attention as one of the next-generation energy sources and is expected to account for around 45% of the demand for marine fuels in 2050.
"We are generating enterprise-wide efforts to accelerate our environmental initiatives for a carbon-free future. We will continue to explore sustainable and clean energies and find a way to go green," an HMM official said.
Meanwhile, HMM has strived to extend its reach to the environmental field. HMM is preparing operational tests of an onboard carbon capture system(OCCS) for its containership.