HMM slashes carbon emissions by half in a decade
South Korea's flagship carrier HMM announced that it has cut its carbon emissions by half over the past decade.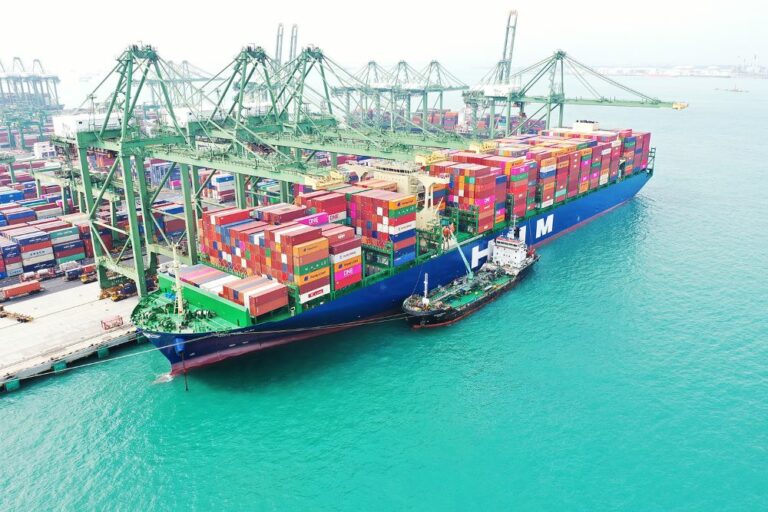 Namely, the shipping major's data shows that the CO2 emissions generated when transporting 1 TEU of container for 1 km decreased from 68.7g in 2010 to 29.05g in 2021, representing a reduction of 57.7% over the last decade.
The company ascribed the result to a more than two-fold increase in fleet capacity, from 337,407 TEU to 755,209 TEU, in the same period.
"HMM has constantly upgraded its fleet by securing energy-efficient mega-vessels. It also used premium antifouling paint and modified the bulbous bow's shape to lessen the hull surface's frictional resistance. Additionally, HMM has improved its operational efficiency by optimizing service routes, speeds, and cargo stowage," HMM said in a comment.
In 2015, the company formed a dedicated task force for effective energy efficiency management and opened a Fleet Control Center in 2020, which analyzes real-time data about vessel operations to reduce greenhouse gas emissions.
"We will continue to engage in activities to reduce greenhouse gas emissions based on data-driven analysis and enhance our environmental capability," an HMM official said.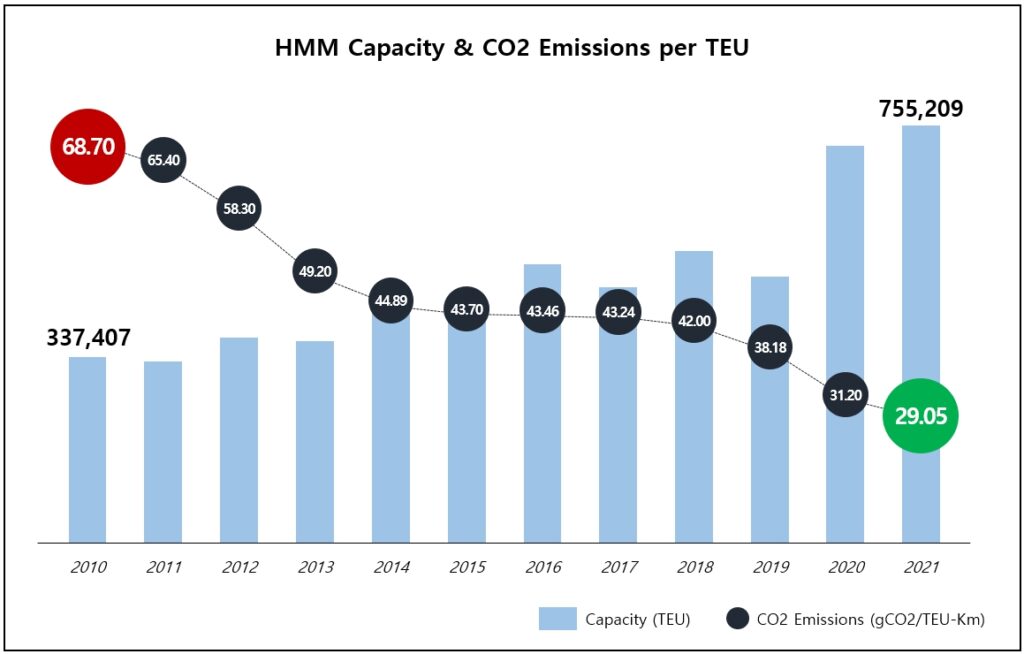 HMM has committed to reaching net-zero carbon emissions across its fleet by 2050, and in line with that goal the company recently ordered nine 9,000 TEU methanol-fueled containerships.
The vessels will be built by Hyundai Samho Heavy Industries (HSHI) and HJ Shipbuilding and Construction (HJSC).
The order is part of the shipping major's future growth strategy, which has earmarked $11.3 billion for future investments. These include the expansion of eco-friendly ships from the current 820,000 TEU to 1.2 million TEU by 2026.
To achieve the target, the company is looking into a range of sustainable energy sources, including methanol, LNG, hydrogen, green ammonia, and even nuclear power for ships and the potential production of hydrogen.
HMM has been investing heavily in LNG as a potential bridging fuel for its vessels and in 2021 the company welcomed into the fleet the first of eight LNG-ready 16,000 TEU containerships, HMM Nuri.
The delivery was followed by a contract with DSME and HHI for twelve 13,000 TEU container vessels, worth $1.57 billion. Under the agreement, DSME and HHI will build six vessels, respectively, scheduled for delivery in the first half of 2024. All ships will be installed with hybrid scrubbers and designed to be LNG-ready. Over 80% of HMM's fleet is scrubber-fitted.