HMM to trial marine biofuels on its mega containerships as it partners with GS Caltex
South Korea's flagship carrier HMM has signed a Memorandum of Understanding (MoU) with GS Caltex to secure marine biofuels.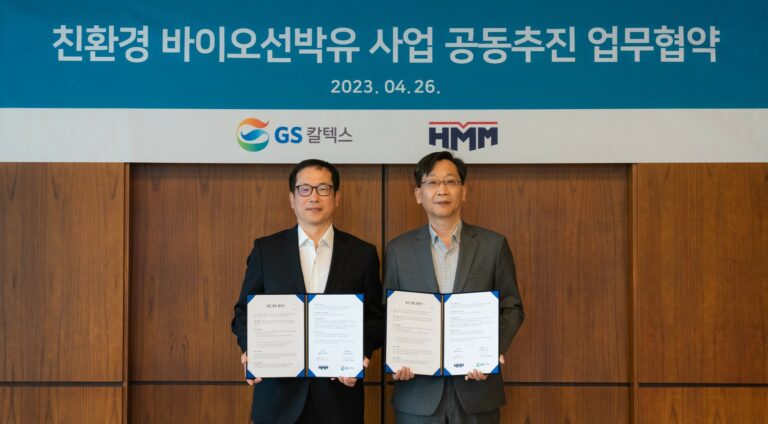 HMM said that it also plans to conduct the trial use of the fuels on its three 24,000 TEU containerships in the second half of this year.
The marine biofuels comprise 30 percent biodiesel derived from used cooking oil and 70 percent high-sulfur fuel oil(HSFO). Biodiesel reduces greenhouse gas emissions by 80% compared to conventional fuels.
Biofuels are an easy fuel in the sense of handling and implementation as they can be used on the existing infrastructure. They provide an immediate solution to decarbonize shipping, as they can be blended or dropped into existing conventional fuels with little or no technological developments required on vessels.
Due to these characteristics, they are becoming one of the most popular alternative fuels considered by shipowners for use in the next five years.
"Based on this MoU, we expect to generate less greenhouse gas emissions and thereby contribute to limiting climate change. We will continue to enhance our environmental competence by accelerating R&D activities," Park Jinki, Senior Executive Vice President of HMM, said.
In 2021, HMM performed the first test voyage using biofuels on its 13,100TEU containership. The vessel HMM Dream, deployed in EC1 (East Coast 1) service connecting Asia and the US East Coast, successfully completed the voyage in the Pacific Ocean.
HMM has committed to reaching net-zero carbon emissions across its fleet by 2050, and in line with that goal the company recently ordered nine 9,000 TEU methanol-fueled containerships.
To achieve the target, the company is looking into a range of sustainable energy sources, including methanol, LNG, hydrogen, green ammonia, and even nuclear power for ships and the potential production of hydrogen.
The latest announcement comes at a very busy period for HMM with the company launching into various ventures including the installation of an onboard carbon capture system onboard a containership to a partnership with Lotte Fine Chemical on the transportation of ammonia.