Maersk-chartered Maersk Biscayne departs from Yanzgijiang
Chinese shipbuilder Jiangsu New Yangzi Shipbuilding has delivered Maersk Biscayne to Japanese Lepta Shipping, a joint venture between Nissen Kaiun and Mitsui & Co.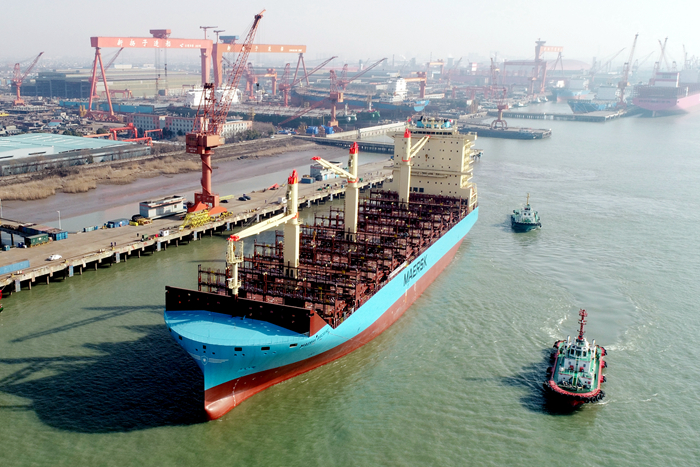 The 3,500 TEU newbuilding containership is intended for a charter for Danish container shipping major Maersk. The vessel is believed to be a part of a series of containerships Lepta Shipping ordered at Yangzijiang back in June 2020.
The contract covers the construction of up to ten boxship newbuildings if all options are exercised. Based on broker reports, the initial order covered five fixed orders which were expanded with five additional ones in 2021, pushing the contract value to around $400 million.
Lepta Shipping is also believed to be behind an order for two 82,000 dwt bulkers at the yard.
Maersk Biscayne is the second vessel from the series to be delivered. The first one was Maersk Arcadia, delivered in December 2022.
The ships have a total length of 200 meters, a molded width of 36.4 meters and a molded depth of 20.6 meters each.
According to the shipbuilder, this type of vessel can meet the latest International Maritime Organisation's (IMO) requirements for zero-emission shipping. The design incorporates technologies that are expected to meet IMO's Energy Efficiency Design Index (EEDI) III.
Maersk is also expected to take delivery this year of its first methanol-powered newbuild.
The feeder will be 172 meters long and its is being built by Hyundai Mipo Dockyard. The ship is intended to sail on the Baltic shipping route between Northern Europe and the Bay of Bothnia.
Maersk has 19 green methanol vessels with dual-fuel engines on order, which are at the center of the company's plans to meet its net-zero emissions target by 2040 across the entire business.