Maersk unveils design of next-gen methanol-powered boxships
Danish container shipping giant Maersk has uveiled the design of its next-generation large container vessels powered by carbon-neutral methanol.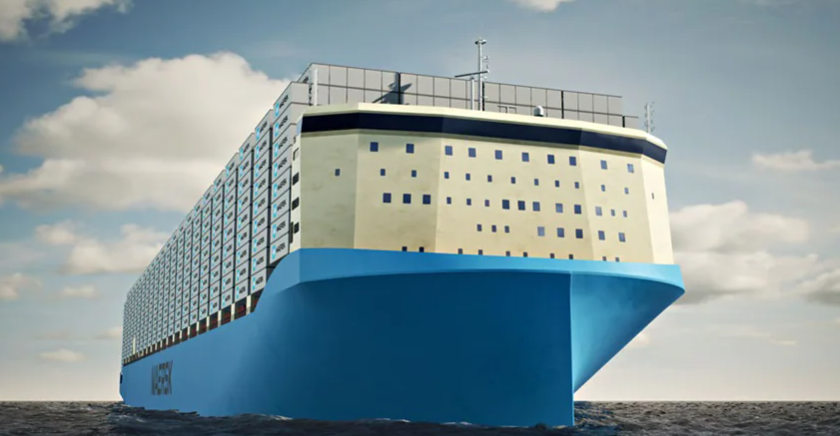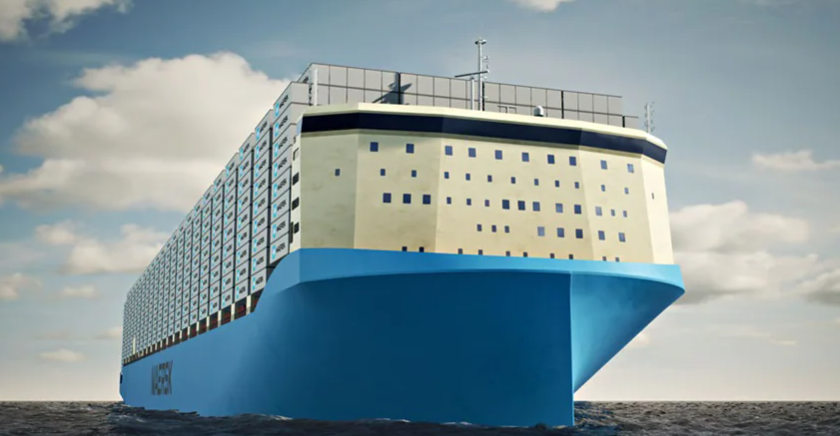 The company ordered a total of eight 16,000 TEU boxships from South Korean shipbuilder Hyundai Heavy Industries (HHI) in August this year.
The first green methanol-fueled unit is planned to be delivered to Maersk in 2024.
"When designing these, our ambition was to make sure the new vessels could service our customers in a smarter way while contributing to their carbon-neutral transportation goals," according to the company.
The new series of vessels will have 20% improved energy efficiency per transported container compared to the industry average, Maersk said.
Thanks to a dual-fuel engine and a 16,000 cbm tank of green methanol, each vessel will be able to make a full round trip — for example Asia-Europe — on green methanol.
Once all eight vessels are deployed, they will be able to generate annual CO2 emissions savings of around 1 million tonnes, offering "truly carbon neutral" transportation at scale on the high seas.
The new design
The vessels will be 350 meters long, 53.5 meters wide and will look significantly different from what has been seen before for any larger container vessels.
The crew accommodation and bridge will be located at the bow to enable increased container capacity. The funnel will be in the aft, and only on one side of the vessel, thereby providing further space for cargo. This separation between accommodation and funnel will also improve efficiency when at the port.
As informed, the making of this took nearly five years, and all while crossing uncharted naval design territory. To enable this new design, several challenges had to be addressed, Palle Laursen, Chief Technical Officer, A.P. Moller – Maersk, explained. Firstly, crew comfort had to be ensured with the accommodation placed in this more exposed location. Moreover, adequate hull strength was also a key parameter to safeguard, with the accommodation block normally working as a hull "stiffener" when placed further backwards. New arrangements for lifeboats and navigational lights had to be developed, plus new cameras to support the captain's view when navigating.
The methanol propulsion configuration will be developed in collaboration with makers including MAN ES, Hyundai (Himsen) and Alfa Laval which represents a significant scale-up of the technology from the previous size limit of around 2,000 TEU. 
The eco-friendly newbuilds will be classed by the American Bureau of Shipping (ABS) and sail under the Danish flag.
Prior to the eight-ship order, Maersk also ordered from Hyundai Mipo Dockyard (HMD) a feeder vessel with a dual-engine technology enabling it to sail on either methanol or traditional very low sulphur fuel. The ship will be launched in 2023, seven years ahead of the company's initial 2030-ambition.
Last month, Maersk placed its inaugural €500 million ($567 million) green bond to fund the construction of its first feeder vessel and the series of eight large ocean-going methanol-powered containerships.
Also in November 2021, Maersk's subsidiary Svitzer signed an agreement with naval architect company Robert Allan for the design of the world's first fuel cell tug for harbour operations, running on green methanol. The objective is to extract and apply knowledge and operational experience of methanol feasibility from the near shore small scale tug onto larger ocean-going container vessels.
The shipping major is also working with different industry players to ensure that carbon-neutral methanol is available in enough quantities. These projects are intended to support the overall Maersk decarbonization journey.