Most read stories on Green Marine in 2022
As we enter a new year, it is time for us to have a look back at the most-read stories from the past year.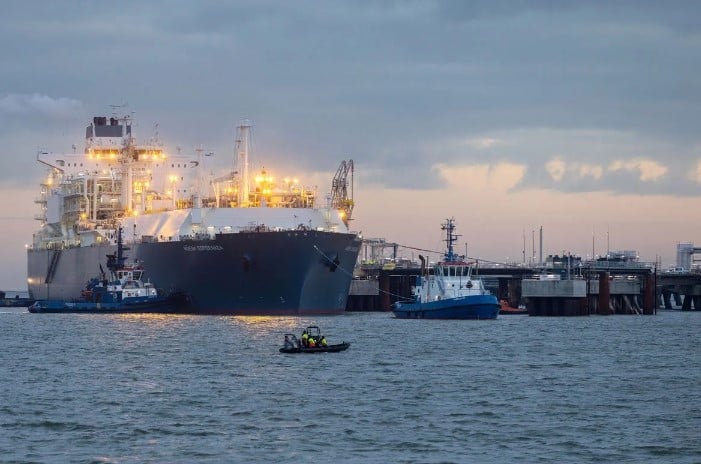 2022 has been a rather turbulent year in many respects. As the world started to emerge from the COVID-19 pandemic, another black swan event rocked the shipping markets to the core, namely Russia's invasion of Ukraine. The need for diversification of energy supply in Europe and breaking dependence on the Russian gas supply triggered massive upscaling of LNG imports combined with strategic investments in green energy projects, most notably hydrogen.
Germany has spearheaded the EU's energy diversification efforts, announcing at the beginning of the year that it would invest in floating LNG terminals.
The project was implemented in a record time of only ten months. Namely, Germany's first floating terminal for importing LNG in Wilhelmshaven was commissioned for service on December 17.
According to Uniper, LNG will be re-gasified and conveyed via the newly created Wilhelmshavener Anbindungsleitung (Wilhelmshaven Connector Pipeline/WAL) into the German long-distance gas grid.
This is enabled by the recent arrival of the floating storage and regasification unit (FSRU) Höegh Esperanza which was chartered by the government from Norwegian company Höegh LNG.
Uniper, the operator of the Wilhelmshaven terminal, expects an annual volume of at least five billion cubic meters of natural gas to be imported and fed into the German long-distance gas grid via this terminal.
The German government is working on introducing a total of five floating LNG terminals to German ports, each with a capacity of at least 5bn m3 per year.
A terminal at Brunsbüttel is expected to be operational early next year, followed by the arrival of the third and fourth FSRUs at the ports of Stade and Lubmin, which are expected to be operational by the end of 2023. The fifth will be in Wilhelmshaven and is due to be up and running by the fourth quarter of next year.
Zero-emission vessel projects have been at the forefront of our reporting this year, with numerous innovative technologies and projects emerging as the maritime industry finally comes to grips with the need for decarbonization.
Currently, there are at least 203 shipping decarbonization pilot and demonstration projects in the pipeline, and the industry is partially on track to meet the target of a 5 percent share of international shipping fuels by 2030.
Some of the most innovative concepts unveiled this year include the zero-emission hydrofoil boxship design developed by California-based marine technology startup Boundary Layer Technologies. The ARGO ship has a gross payload capacity of 200 tons, a range of up to 1,500 nautical miles, and a cruise speed of 40 knots, which is twice that of conventional containerships.
The vessel is powered by green hydrogen and fuel cells, which are stored as a liquid inside its two hulls. The company has already completed the development of key pieces of ARGO's technology stack, and is on track to perform full-scale sub-system tests by the end of 2023.
The third most-read topic was the world's first liquefied hydrogen (LH2) carrier Suiso Frontier, which in December 2021 left Japan to pick up its first cargo. The vessel came back to Japan with its first cargo from Australia in February 2022.
The delivery marked the world's first completion of maritime transportation of LH2 over long distances. Japanese shipbuilder Kawasaki Heavy Industries plans to continue to test cargo handling and conduct data verification to ensure a successful outcome for the project. The main goal and vision are to build a global hydrogen supply chain.
Another hydrogen carrier design is attracting attention developed by C-Job Naval Architects and LH2 Europe.
The liquid hydrogen tanker design spanning 141 meters would be powered by hydrogen fuel cells. It will feature three liquid hydrogen storage tanks with a total capacity of 37,500 cubic metres. The tanks have been designed to have a much lower boil-off than those currently in the maritime industry. The limited remaining boil-off would be directly used in H2 fuel cells, providing power to the vessel's propulsion systems, resulting in emissions of water only. Thus, the vessel itself will have zero greenhouse gas emissions during operations.
LH2 Europe plans to use Scotland's renewable electricity to produce green H2 and market it at a competitive price with diesel. The new tanker is intended for transporting liquid hydrogen to terminals in Germany. In addition, the vision is to expand supply to other markets as demand increases.
Finally, 2022 also saw the delivery of the world's first ammonia-ready vessel. Greek shipowner Avin International took delivery of the 274-meter-long tanker Kriti Future at New Times Shipbuilding on 10 January 2022.
Currently conventionally fueled, the vessel complies with the ABS Ammonia Ready Level 1 requirements, indicating it is designed to be converted to run on ammonia in the future. The 170,811 cbm tanker also meets the ABS LNG Fuel Ready Level 1 requirements.