New clean hydrogen partnership to promote electrolyzers
U.S. Plug Power, South Korean SK E&S and K-water as well as SK Plug Hyverse, a joint venture between SK E&S and Plug Power, have signed a memorandum of understanding (MoU) to "promote the growth of green hydrogen and rejuvenate the industry."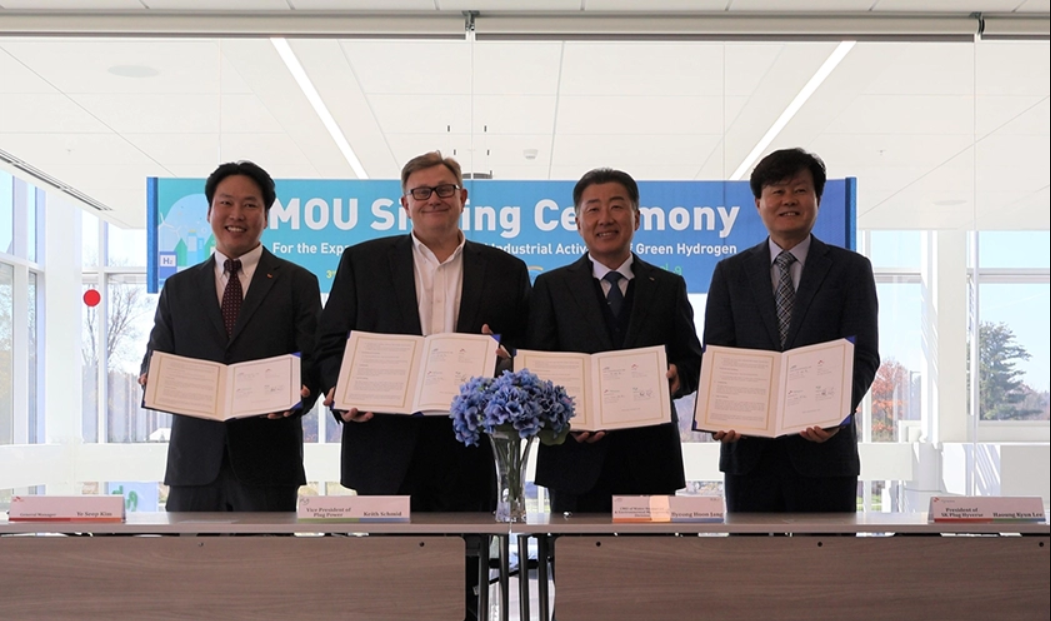 Specifically, the companies will collaborate on advancing the green hydrogen sector both domestically and internationally with a focus on promoting electrolyzers.
According to Plug Power, the cooperation between the four parties will encompass various aspects of the business such as the development of national green hydrogen production facilities and the acquisition of operational technologies.
Furthermore, the companies will collaborate to boost the competitive edge of the domestic green hydrogen industry, including the expansion of both domestic and international green hydrogen ventures as well as the exploration of new business opportunities.
With this objective in mind, SK Plug Hyverse is set to provide and manage PEM electrolyzers, for both domestic and international green hydrogen projects, Plug Power revealed, noting that in addition, SK Plug Hyverse will engage in joint research and development efforts with K-water to enhance the operational technology of green hydrogen production facilities. Moreover, there are plans for further business collaborations and joint entry into overseas markets in the future, Plug Power added.
As already mentioned, the parties involved have also agreed to collectively pursue the promotion of PEM electrolysis technology, a crucial component in green hydrogen production.
Plug Power said that SK Plug Hyverse is planning to manufacture PEM electrolyzers in Korea, while K-water seeks to offer essential business and technical support for localization and foster the growth of domestic green hydrogen enterprises within the water industry.
To note, water electrolyzers are instrumental devices that utilize electrolysis to produce hydrogen, playing what is said to be a pivotal role in the proliferation of green hydrogen derived from renewable energy sources.
According to Plug Power, PEM electrolyzers, which SK Plug Hyverse supplies and aims to localize, offer distinct advantages such as reduced operational time, exceptional load responsiveness, compactness and low maintenance costs when compared to alkaline water electrolyzers. They are particularly appreciated for their ability to effectively compensate for the intermittent nature of renewable energy sources in green hydrogen production, ensuring stable operation even in the presence of fluctuating power supplies, Plug Power emphasized.
The U.S. company also revealed that SK Plug Hyverse is set to establish a 'giga-factory' in Korea for large-scale production of PEM electrolyzers, noting that currently, SK Plug Hyverse is actively involved in expanding the domestic green hydrogen sector by utilizing PEM electrolysis technology, participating in the ongoing 3.3 MW and 12.5 MW water electrolysis demonstration projects on Jeju Island.
In regard to K-water, Plug Power said the Korean company is actively promoting various hydropower projects grounded in water resources. In September 2023, K-water achieved a significant milestone by constructing the nation's first green hydrogen production facility at the Seongnam Water Purification Plant powered by small hydropower.
Commenting on the MoU and the partnership, Jiyoung Lee, Senior Vice President of SK E&S, said: "The collaboration to localize PEM electrolysis technology can contribute to not only reducing carbon emissions but also establishing global competitiveness in the domestic clean energy industry. We are committed to exploring diverse cooperative opportunities to expand the ecosystem of the clean hydrogen industry and take the lead in the era of carbon neutrality."
Byeonghoon Chang, Head of the Water Resources & Environmental Management Division at K-water, stated: "The hydrogen industry is very important as a major alternative to fossil energy to achieve carbon neutrality in the era of the climate crisis. We will do our best to revitalize the green hydrogen industry by spurring the development of next-generation technologies such as water electrolysis technology based on cooperation between companies."
Click here to read more about hydrogen projects in South Korea.