Ocean Yield trims sails, signs up for up to 9 ammonia-ready Newcastlemaxes with CMB
Norwegian shipowner Ocean Yield has finalized the terms of its previous announcement on the acquisition of up to ten ammonia-ready Newcastlemax dry bulk newbuildings.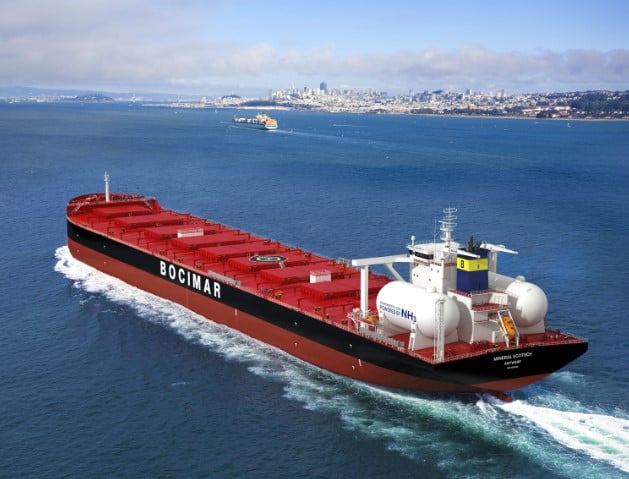 Namely, in its latest announcement, the company said it had agreed with the charterer to finalize the transaction scope at eight or nine vessels, instead of the previously stated range of five to ten. These vessels will be delivered between the third quarter of 2024 and the fourth quarter of 2025.
Ocean Yield said earlier that the ten Newcastlemaxes would be worth around $576 million.
Upon their delivery, the newly acquired vessels will immediately embark on 15-year bareboat charters, serving the guaranteed subsidiaries of CMB N.V. shipping and logistics company.
CMB has partnered with one of the leading engine manufacturers, WinGD, in the development of an ammonia engine for the newbuildings.
Namely, CMB's cleantech group CMB.TECH has inked a deal with WinGD to develop and to install the ammonia dual-fuel X72DF engine on a series of 210,000 dwt bulk carriers to be built at an undisclosed Chinese shipyard. The ships are being built for CMB's sister firm Bocimar.
Subsequently, Beihai Shipbuilding revealed that it had won the construction deal and that it was proceeding with the construction of the first vessel from the batch.
WinGD said that the new engines will be based on the X92B engine, as its fuel efficiency makes it an ideal starting point for developing large-bore ammonia-fuelled engines.
According to Ocean Yield, the ambition is for the newbuildings to be the first large dry bulk carriers to be powered by zero-carbon fuels.
Ocean Yield is investing heavily in its fleet rejuvenation as part of its sustainability strategy.
During 2022, a total of 12 vessels were sold, all of which used conventional fuel. During the year, the company agreed to acquire up to 15 newbuildings, all of which are prepared for either methanol, ethane or ammonia as alternative fuel sources.
In addition to the ammonia-ready bulkers, these have also included the acquisition of two 36,000 cbm LEG carriers with long-term bareboat charters to Braskem S.A., a global petrochemical company. The vessels will be equipped with tri-fuel engines enabling them to use various types of gas as fuel including LNG and ethane. They are sister vessels to Ocean Yield's Gaschem Orca and Gaschem Beluga with similar engines, which are performing ahead of their Poseidon AER trajectories, Ocean Yield said.
The newbuldings are intended to be used in Braskem's own trade from Brazil to Mexico, backed by long-term offtake agreements.
Last year, the company also invested in the acquisition of three 5,500 TEU container vessels to commence on long-term time charters to ZIM. The vessels will be methanol-ready, meaning that they will have the ability to be converted to operate with methanol as fuel.
Additionally, the vessels will have several modern technical specifications including waste heat recovery systems and IMO NOx Tier III compliant HP and LP SCR systems, catering for lower carbon emissions relative to comparable vessels on water.
Finnaly, Ocean Yield's two platform supply vessels, NS Frayja and NS Orla, which are on bareboat charters to Aker BP, were modified in July 2020 with battery packs designed to reduce energy emissions while the vessels are operating on dynamic positioning. It is estimated that this innovative solution can decrease fuel consumption, costs and reduce CO2 emissions by almost two tons annually for the two vessels combined. The energy storage system container is provided by Rolls-Royce.