Oman welcomes world's first liquefied hydrogen vessel Suiso Frontier
At Sultan Qaboos Port, Oman has received the first liquefied hydrogen carrier ship Suiso Frontier as part of the Japanese tanker's regional tour in the Middle East.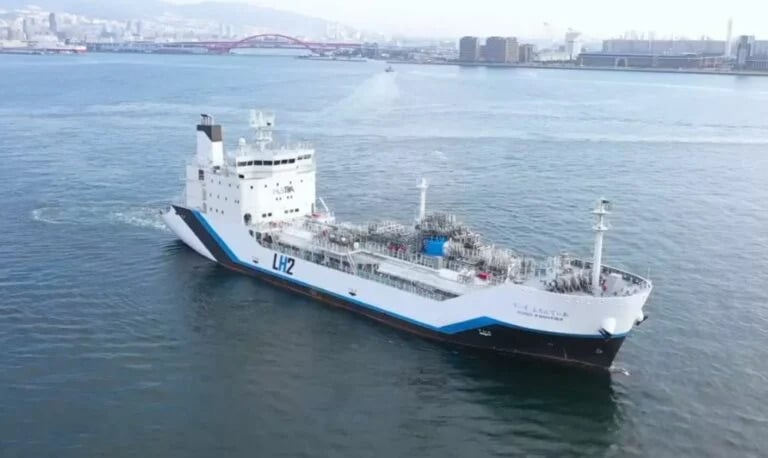 Oman News Agency said that Salim Nasser Al Aufi, Minister of Energy and Minerals, and officials from the sectors of hydrogen, transport and logistics, toured the carrier ship's facilities as well as the hydrogen transfer control room, which was augmented with cutting-edge reality technology. This feature, according to the report, displayed the scenarios of transporting liquefied hydrogen on a commercial scale, besides the economic feasibility of transport projects.
Al Aufi was reported as saying that the visit comes within the framework of getting familiarized with the capabilities of transporting hydrogen and the challenges faced by the carrier, and it also aims to review the company's future plans in building huge hydrogen carriers to meet increasing international demand during the upcoming stage.
Jota Yamamoto, Ambassador of Japan to Oman, reportedly said that the carrier's visit to Oman contributes to enhancing bilateral relations in all fields, especially in the energy and hydrogen fields, and in addition, the ambassador underscored the importance of the availability of hydrogen carriers to connect suppliers with the market.
To note, the carrier ship Suiso Frontier was manufactured by the Japanese company Kawasaki Heavy Industries (KHI) and is operated by Shell Japan.
The vessel is considered a significant experimental station, notably catalyzing research and development in the hydrogen domain, and according to reports, it ferries substantial hydrogen volumes, with cargo capacity reaching 1,250 cubic meters.
Japan and Oman are known as strategic partners. They solidified their relations with the signing of a Memorandum of Cooperation in January this year. Their collaboration encompasses a spectrum of sectors, including hydrogen, ammonia fuel, carbon recycling and modern methodologies sued in methane production.
Follow Offshore Energy's Clean Fuel: