ONE's globetrotting magenta marvels making waves
Hong Kong-based ship owner Seaspan has taken delivery of the 15,000TEU container ship named ONE Friendship.
The boxship was constructed by Jiangsu New Yangzi Shipbuilding as part of a fleet of seven ships, all with a capacity of 15,000TEU.
ONE Friendship is the second vessel from the series and is the largest container ship constructed by New Yangzi Shipbuilding, the shipbuilder said. The boxship will be operated by Singapore's Ocean Network Express (ONE).
The ship's construction began in November 2021, followed by docking in July 2022 and undocking in November of the same year. After extensive sea trials, which concluded on April 10, 2023, ONE Friendship embarked on its maiden voyage at the end of April, ready to navigate the high seas.
Prior to the ship's delivery, a naming ceremony was jointly organized by New Yangzi Shipbuilding and Seaspan on April 24, and on the following day, the company signed the delivery documentation for the vessel.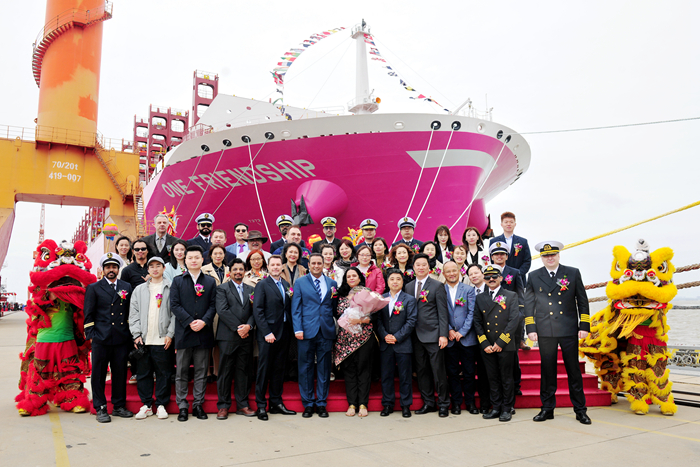 Based on its AIS data, the Hong Kong-flagged vessel is currently underway in the South China Sea, en route to the Port of Singapore, with an estimated time of arrival being May 12.
Another vessel from the batch, ONE Fruition, has already hit the water at the yard and is undergoing final touches.
With impressive dimensions, the vessel stretches to a total length of 366 meters and boasts a molded width of 51 meters. Its molded depth is recorded at 30.2 meters, accompanied by a design draft of 14.5 meters and a structural draft of 16.0 meters.
Seaspan placed an order for six 15,000 TEU containerships back in June 2021, however, the company did not disclose the name of the shipbuilder at the time. As disclosed, the ships would be scrubber fitted and run on conventional fuel. The company has around 70 newbuilding vessels under construction worth around $ 7.6 billion.
Meanwhile, ONE has marked a significant milestone on a different side of the world. Namely, the 14,000 TEU ONE Stork made a new record at the Jacksonville Port Authority (JAXPORT) becoming the largest containership to ever call Jacksonville. The call took place on May 9, breaking the previous record of 11,923 TEUs.
Operated by shipping line Ocean Network Express within THE Alliance network of ocean carriers, the ONE Stork is the first of nine larger vessels that will call JAXPORT weekly through the EC5 container service operated by THE Alliance.
Effective May 2023, THE Alliance has upsized the vessels used in the service, replacing smaller ships with six larger 14,000-TEU and three larger 13,000-TEU vessels. The upgraded vessel sizes average a 60 percent increase in container carrying capacity over the previous ships in the service.
"Today's arrival of the ONE STORK represents yet another milestone for our port and community," said JAXPORT CEO Eric Green.
"Harbor deepening and the other investments that have been made in our port provide the capability for these larger vessels to call Jacksonville, supporting jobs and economic impact throughout our region and state. We are grateful for the partnership we have with our THE Alliance partners and look forward to their continued growth and success in Jacksonville."