Orkney builds up 'green hydrogen' delivery system
Orkney Islands have further increased the transportation capabilities for locally produced 'green hydrogen' with the delivery of two hydrogen tube trailers from Calvera.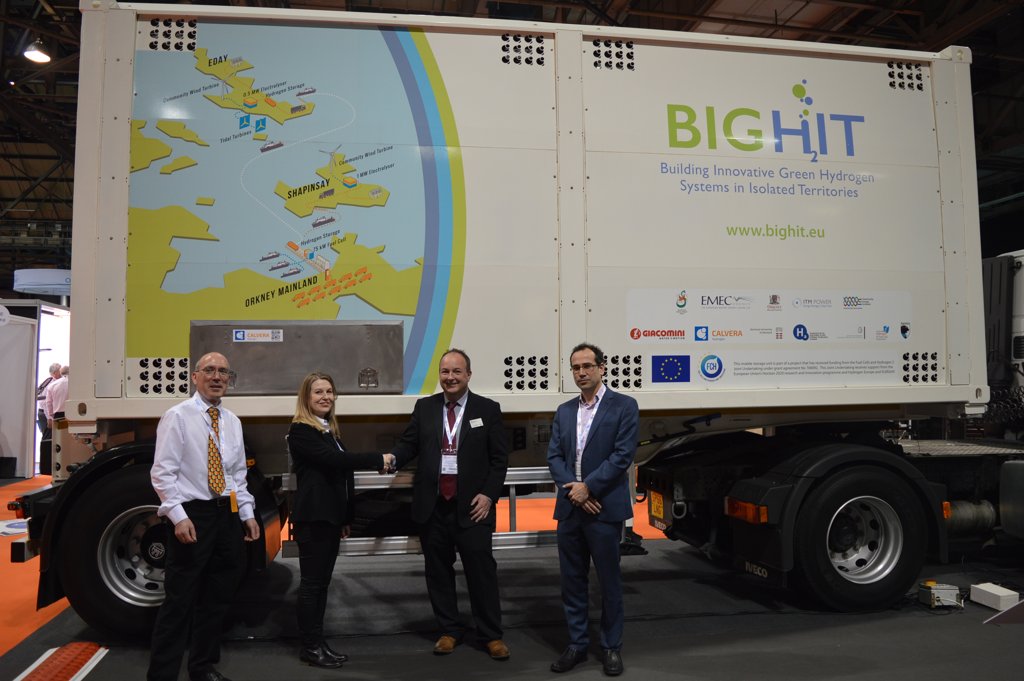 Used for the transportation of 'green hydrogen' safely and efficiently, the new trailers capable of carrying up to quarter tonne of hydrogen gas increase the Orkney fleet of hydrogen tube trailers to five.
The 'green hydrogen' is being produced on site at the European Marine Energy Centre on the northern Orkney island of Eday as part of the €10.9 million EU-backed BIG HIT (Building Innovative Green Hydrogen systems in an Isolated Territory) project.
The hydrogen is then transported to Kirkwall, mainland Orkney, using the fleet of Calvera hydrogen tube trailers carried on board the inter-island ferry service.
This locally produced 'green hydrogen' supplies the hydrogen fuel cell installed at Kirkwall Harbour and will also be used for the Orkney Islands Council fleet of five Symbio Kangoo fuel cell range extended zero emission vans, according to EMEC.

Nigel Holmes, CEO of SHFCA, and communications manager for BIG HIT, said: "The delivery of these two hydrogen tube trailers is another important step by BIG HIT. This project is developing our low carbon energy systems capabilities in Scotland, and we are delighted to be part of this Europe-wide team.
"BIG HIT is demonstrating the important role of hydrogen and fuel cells for realizing additional local benefits from renewable energy, and this great project will help many other islands and communities to achieve similar benefits."
Neil Kermode, Managing Director of EMEC, added: "By piloting the generation of hydrogen from renewable energy sources, BIG HIT is helping avoid grid shortcomings, while supporting further development of renewable energy projects in Orkney. It is breaking through the barriers to delivering renewable transport and heat, opening up new markets around the world."